Baked Tacos -- Chicken or Beef!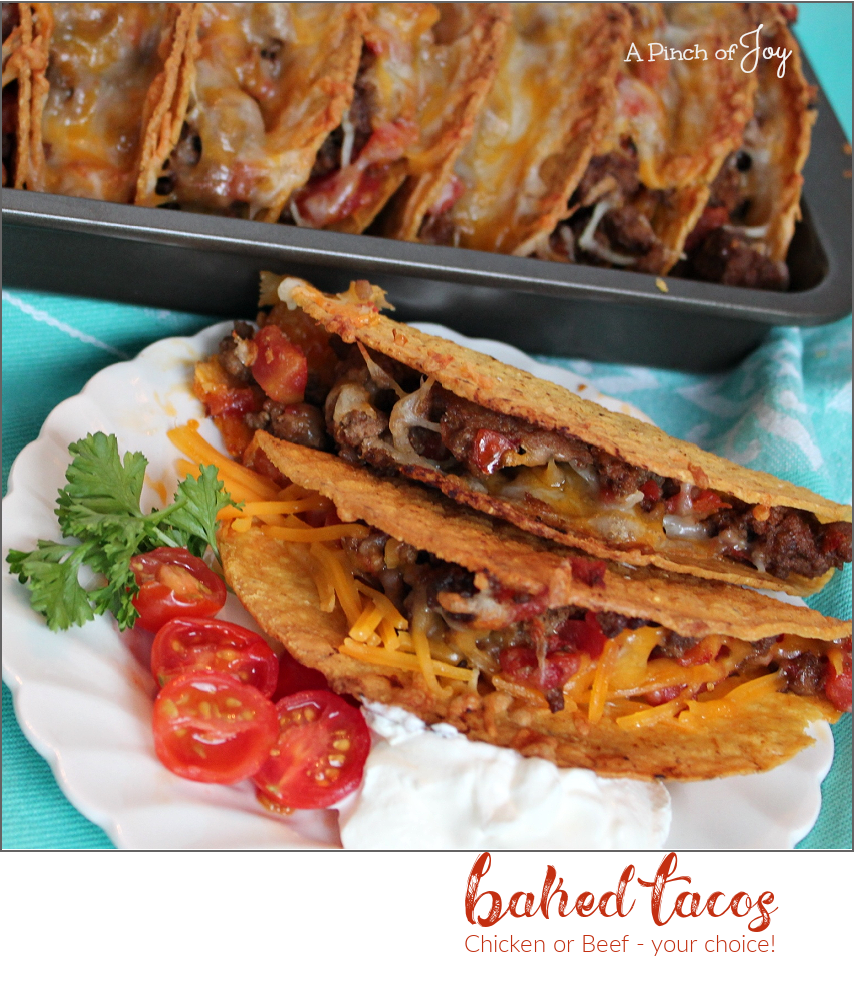 Author:
A Pinch of Joy by Charlene Vance
Recipe type:
Quick and Easy
1 pound cooked, shredded chicken*
*OR 1 pound browned hamburger
1 packet taco seasoning
½ cup diced onions
1 can diced tomatoes
1 can refried beans
1 package of 10-12 hard shell taco shells
1 8 ounce package Mexican Style shredded cheese
Preheat oven to 375 degrees and spray a 7x11 baking dish with non stick cooking spray, set aside.
Heat olive oil over medium heat in a skillet and lightly saute onions. Add precooked chicken (or hamburger) and taco seasoning. Completely drain tomatoes and add to skillet. Reduce heat and let cook for 5-8 minutes
Meanwhile, place taco shells in prepared 7 x 11 baking dish and bake 5 minutes. Remove from oven.
To assemble tacos: spoon 1 tablespoon of refried beans on the bottom of each shell. Top with meat and tomato mixture (evenly distributed)
Add a generous amount of shredded cheese to each taco.
Bake for 7-10 minutes or until cheese is fully melted and edges are a little brown.
Remove from oven and top with additional toppings, such as chopped fresh tomatoes, shredded lettuce, sour cream.
Serving size:
1 taco
Calories:
148,
Carbohydrates:
4 grams,
Protein:
14 grams,
Recipe by
A Pinch of Joy
at https://www.apinchofjoy.com/2020/08/baked-tacos-chicken-or-beef/