Chocolate Covered Peanut Butter Balls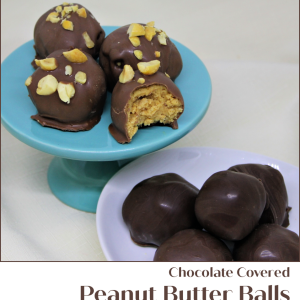 Author:
A Pinch of Joy by Charlene Vance
1 ½ cups crisp rice cereal
1 cup creamy peanut butter
1⅔ cups powdered sugar
⅓ cup butter, room temperature
16 ounce bag chocolate chips
2 teaspoons coconut oil, optional
1 tablespoon peanuts, chopped, optional
Pour cereal into quart sized plastic zipper bag. Use a rolling pin to crush the cereal. Most of it should be crushed to a fine crumb, but leaving some less finely crushed will enhance the texture.
Pour crushed cereal into a mixing bowl. Add peanut butter, softened butter and powdered sugar.
Use mixer to combine ingredients. Mixture will turn into crumbs, but with continued beating mixture will begin to cling together and form one large piece.
Use a teaspoon to measure mixture and roll into balls. Place on cookie sheet. When all of the mixture has been rolled, cover with plastic wrap and place cookie sheet in freezer for 4 or more hours.
If using peanuts to top balls, roughly chop in advance of dipping.
To coat frozen balls: measure ⅔ cup of chocolate chips into microwave safe bowl. Melt in microwave for 30 seconds, stir and heat again as needed in 15 second bursts until fully melted. Add scant 1 teaspoon of coconut oil, if desired, to help set chocolate.
Dip balls into melted chocolate, spooning additional chocolate over the top if needed. Place on waxed or parchment paper to set. Sprinkle top with chopped peanuts or small candies while chocolate is still soft and warm.
Chocolate will set quickly, especially if coconut oil is used.
Can be adapted for keto by using approved sweetener, such as Swerve confectioners, and Lily chocolate chips. This will change the estimated nutritional values.

Nutritional values are estimates and will change according to brand of ingredients chosen.
Serving size:
1
Calories:
141
Carbohydrates:
14 grams
Protein:
3 grams,
Recipe by
A Pinch of Joy
at https://www.apinchofjoy.com/2020/12/chocolate-covered-peanut-butter-balls/