Almond Cheesecake Squares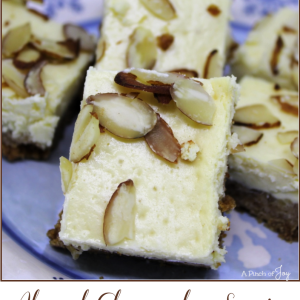 Author:
A Pinch of Joy by Charlene Vance
¼ cup sugar
1¼ cups graham cracker crumbs
⅓ cup butter, melted
¼ cup toasted sliced almonds, finely ground
12 ounces cream cheese
½ cup sugar
2 large eggs
¼ cup sour cream
2-1/2 teaspoons vanilla extract
1 teaspoon almond extract
¼ cup toasted, sliced almonds for topping
Preheat oven to 350 degrees F. Spray 8x8 pan with cooking spray and set aside.
Toast ½ cup almonds in small skillet over medium heat for about 10 minutes. Let cool and grind ¼ cup to add to crust.
Mix sugar, graham cracker crumbs, and ground almonds together in a mixing bowl. Pour melted butter over top. Mix well until butter is evenly distributed.
Press firmly into prepared pan. Bake 10-12 minutes or until firm.
Meanwhile, mix cream cheese and sugar together until smooth. Add eggs, one at a time, scraping sides of bowl, and mixing well after each addition. Add sour cream and extracts; mix well. When crust is done, pour filling mixture over prepared crust.
Bake in preheated oven for 40 to 47 minutes, or until firm.
Remove from oven and top with toasted sliced almonds.
Nutritional values are estimates and may vary.
Serving size:
1 square
Calories:
120
Carbohydrates:
8 grams,
Protein:
4 grams,
Recipe by
A Pinch of Joy
at https://www.apinchofjoy.com/2020/12/almond-cheesecake-squares/