Double Chocolate Toasted Almond Clusters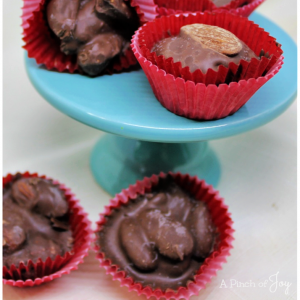 Author:
A Pinch of Joy by Charlene Vance
16 ounces lightly salted or plain roasted almonds
1 lbs White Melting Chocolate (White Almond Bark or Candy Coating)
4 oz Bakers's German Chocolate (or similar sweet chocolate)
1 ½ cups Semi Sweet Chocolate Chips
Line 3 baking sheets with parchment paper.
Spread almonds on cookie sheet. Do not pile almonds on top of each other. Bake at 350 for ten minutes. Remove from oven and cool while chocolate is melting. This step can also be done a day or more ahead of time.
In a 5 qt or larger slow cooker, add the white melting chocolate, sweet baking chocolate, and semi sweet chocolate chips. Put the lid on and set to LOW, checking at sides and bottom occasionally to make sure chocolate is not overheating.
As chocolates become soft and melted, stir to combine them.
Add almonds to the crock pot and stir them in well.
Use cookie scoop (OR ateaspoon OR tablespoon), depending on how large you want your peanut clusters, to scoop mounds onto the parchment paper or into paper cups.
The candies will take about an hour or more to set enough to handle and longer to become firm. Transfer to an air tight container.
Nutritional values will vary according to brand of ingredient and the size of the finished candy.
Serving size:
1 candy
Calories:
125,
Carbohydrates:
11 carbs,
Protein:
2 grams,
Recipe by
A Pinch of Joy
at https://www.apinchofjoy.com/2021/01/double-chocolate-toasted-almond-clusters/