White Cafe Mocha with Whipped Cream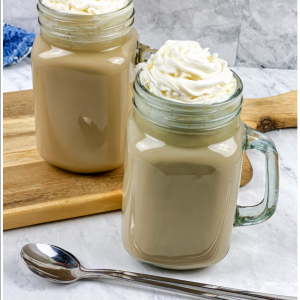 Author:
A Pinch of Joy by Charlene Vance
¾ cup heavy whipping cream
3 Tablespoons powdered sugar
1 teaspoon vanilla extract
¼ teaspoon cream of tartar (optional)
Sprinkles (optional)
2 cups whole milk
½ cup Ghirardelli white chocolate baking chips
½ Tablespoon coconut oil
2 cups freshly brewed strong black coffee
Optional: Sprinkles, for garnish
Pour cold heavy whipping cream into mixing bowl. Add powdered sugar and vanilla.
Using a hand mixer or a stand mixer with whisk attachment, whip heavy cream, sugar, and vanilla extract on medium-high speed until medium peaks form, about 2-4 minutes.
Use immediately or cover tightly and chill in the refrigerator for up to 24 hours.
Pour milk into a saucepan over medium-low heat. Simmer, stirring frequently to prevent scorching, until heated through, approximately 3-5 minutes. It is hot enough when bubbles begin to form along the outside of the pan. Do not boil! Remove from heat.
Place white chocolate chips into a medium microwave-safe bowl and heat in 20 second bursts, stirring between each one, until melted. Add coconut oil and stir to combine.
Add warm milk to the white chocolate mixture and gently stir to combine. Set aside.
Pour the hot coffee into 16-oz. mugs and top each one off with white chocolate milk mixture.
Remove whipped cream from the refrigerator and add a big dollop to each mug OR spoon into an icing bag fitted with a large decorative tip to create an attractive swirl.
Add sprinkles, if desired, and serve immediately. Enjoy!
Nutritional values will vary depending on brand or type of ingredient chosen.
Calories:
340 |
Carbohydrates:
35 grams|
Protein:
5 grams |
Recipe by
A Pinch of Joy
at https://www.apinchofjoy.com/2021/02/white-cafe-mocha-with-whipped-cream/