Grilled Chicken with Lime Marinade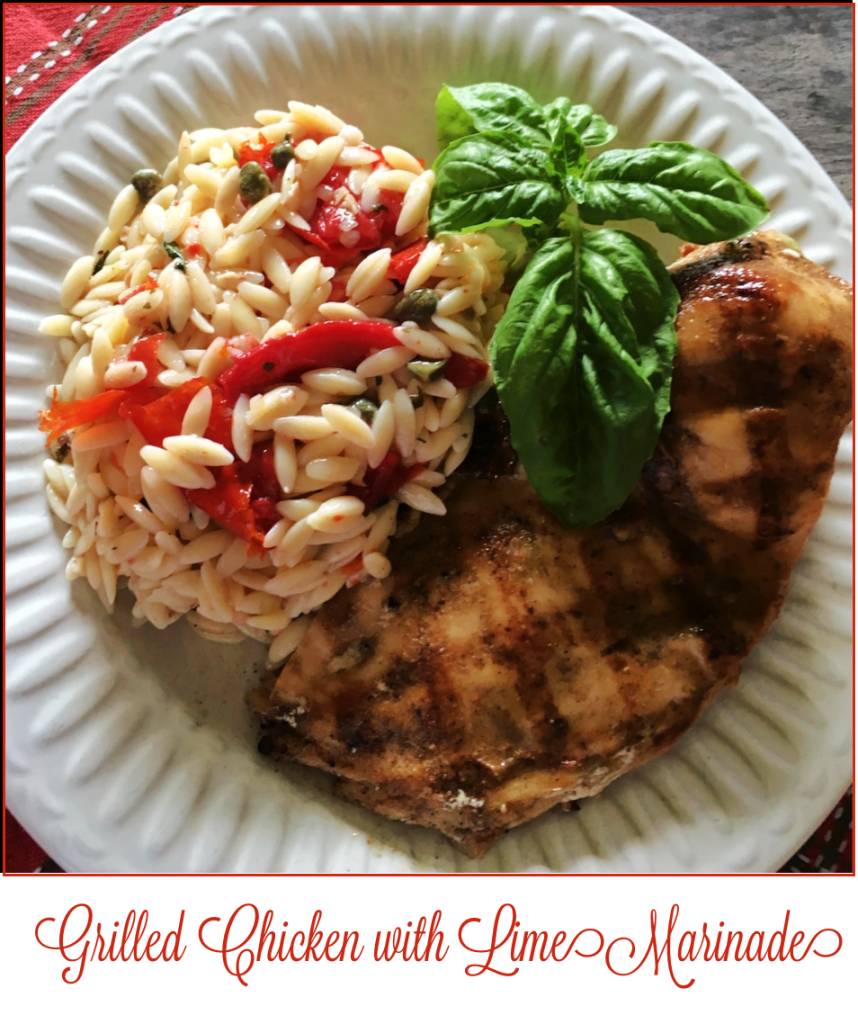 Author:
A Pinch of Joy by Charlene Vance
2 T. extra virgin olive oil
½ c. apple cider vinegar
2 T. lime juice
2 t. organic lime zest
2 T. fresh oregano, rinsed and crushed with fingers to release oils
2 sprigs fresh rosemary, rinsed and crushed with fingers to release oils
3 garlic cloves, crushed and peeled
salt and pepper, to taste
4 8-oz. boneless, skinless chicken breasts
Add marinade ingredients to large bowl and whisk to combine.
Put chicken breasts in a 1-gallon sealable freezer bag then pour marinade mixture over top. Seal and turn to coat breasts thoroughly.
Place bag on plate or shallow bowl and set in the refrigerator for 1 to 3 hours. Turn the bag a couple times to evenly coat chicken with marinade.
Remove chicken from refrigerator and discard marinade.
Grill breasts over medium heat for about six minutes on each side, for 10 – 12 minutes total. Remove from heat and let set 5 minutes before serving.
Add 1 to 3 hours to preparation time for marinating the chicken breasts
Calories:
434 |
Carbohydrates:
2 grams |
Protein:
69 grams |
Recipe by
A Pinch of Joy
at https://www.apinchofjoy.com/2021/05/grilled-chicken-with-lime-marinade/