Orzo Pasta Salad with Tomatoes and Variations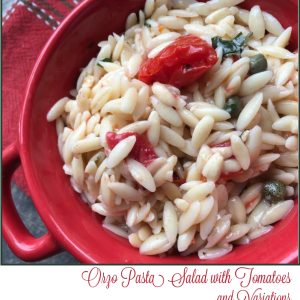 Author:
A Pinch of Joy by Charlene Vance
2 Tablespoons olive oil
3 cloves garlic, peeled and finely minced
1 large or 2 medium tomatoes, washed and chopped, seeds and excess liquid discarded
1 ½ cup dried orzo, cooked according to package directions and cooled
2 T. capers
1 Tablespoon caper brine
1 Tablespoon fresh lemon juice
1 Tablespoon fresh thyme, chopped
1 Tablespoon fresh parsley, chopped
Salt and pepper, to taste
Cook orzo according to package directions. Drain and set aside.
While orzo is cooking, cut tomatoes into halves or wedges. Discard seeds and liquids, then chop.
Add olive oil and minced garlic to a cold skillet and turn heat to medium high. Sauté for 2 minutes.
Add tomatoes and cook for an additional 2-3 minutes until tomatoes become soft, stirring occasionally. Remove from heat and set aside.
Remove stems from thyme and parsley and chop.
In large bowl, stir together capers and liquid (or substitutes), lemon juice, thyme and parsley with the tomato and garlic mixture. Add orzo and toss gently to combine.
Add cooked orzo and toss until thoroughly combined. Season with salt and pepper, to taste.
Cover and refrigerate for at least one hour or overnight.
Nutritional values are estimates only and will vary.
Calories:
245 |
Carbohydrates:
44 grams |
Protein:
9 grams |
Recipe by
A Pinch of Joy
at https://www.apinchofjoy.com/2021/05/orzo-pasta-salad-with-tomatoes-and-variations/