Lemon Blueberry Cheesecake Bars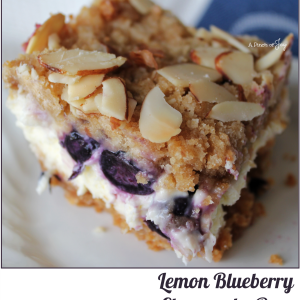 Author:
A Pinch of Joy by Charlene Vance
9 graham cracker rectangles, crushed (1-1/4 cups of cracker crumbs)
2 tablespoons sugar
1 teaspoon grated lemon zest (optional, but use for optimum flavor)
4 tablespoons butter, melted
2 (8-ounce) packages cream cheese, softened
2 large eggs
2 tablespoons grated lemon zest (optional)
¼ cup fresh lemon juice
½ cup sugar
1½ cups blueberries
¾ cup brown sugar
¾ cup flour
6 tablespoons butter, cold
Preheat oven to 325 degrees F.
Lightly spray 9 inch square baking pan with non-stick cooking spray.
Crush graham crackers, by placing them in heavy plastic bag and rolling over them with rolling pin until they become fine crumbs. Pour into medium bowl, add sugar, lemon zest and melted butter, and stir until well mixed. OR use food processor: Add graham crackers, 2 tablespoons granulated sugar and 1 teaspoon lemon zest to bowl of food processor. Process until fine crumbs form. Add melted butter, cover and process until blended.
Press graham cracker crumb mixture evenly into the bottom of the pan and bake until lightly toasted, about 10 minutes. Cool 10 to 15 minutes before adding the cheesecake layer.
Make the topping by adding brown sugar, flour, and cold butter to a medium bowl. Cut the butter into slices and then add them to the bowl. Using your fingers or a fork work the butter into the flour and sugar until crumbly.
Set aside while you prepare the cheesecake layer. When cheesecake and blueberries are in the pan, scatter topping over the blueberries.
Place all filling ingredients - except blueberries - in medium bowl. Using mixer, combine all ingredients and then beat until creamy and smooth.
IF using food processor: Wipe the food processor to remove graham cracker crumbs with a paper towel then add cream the cheese, eggs, 2 tablespoons lemon zest, lemon juice and sugar. Process until smooth and creamy.
Spoon cheesecake filling over crust.
Top cheesecake with even layer of blueberries. Immediately sprinkle topping across cheesecake and berries. Sprinkle almond slices on top.
Bake until topping is lightly brown and center almost set, 35 to 40 minutes. Center may still be slightly jiggly when pan is shaken.
Cool 1 hour at room temperature, then refrigerate 1 hour or longer until well chilled. OR put in freezer for 30 minutes.
Cut into 9 bars.
Nutritional values are estimates and will vary
Calories:
496 |
Carbohydrates:
51 grams |
Protein:
6 grams |
Recipe by
A Pinch of Joy
at https://www.apinchofjoy.com/2021/09/lemon-blueberry-cheesecake-bars/