Mummy Brats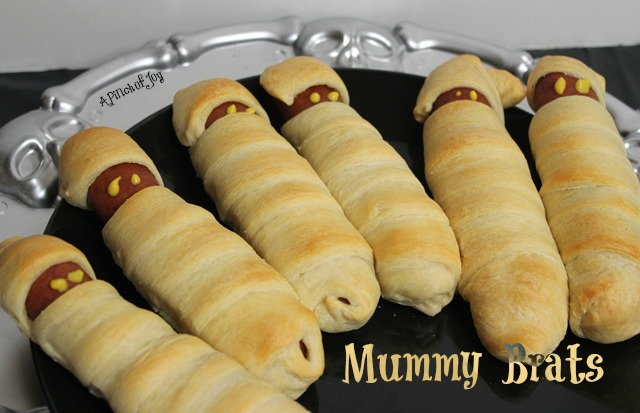 6 precooked brats or hot dogs
1 can crescent rolls or crescent dough sheet
Mustard for eyes
Preheat oven to 375 degrees.
Unroll crescent dough. If using crescent rolls, press dough together to remove perforations.
Cut dough lengthwise into sixths.
Wipe excess moisture off brats or hot dogs. Place one end of dough strip on one end of brat and fold slightly to make a pocket that covers the end of the meat.
Wrap dough around the brat, overlapping slightly. Let dough stretch as you work with it. Skip about half an inch of the brat at the "head" and tuck the end of the dough under the brat.
Place each finshed mummy on ungreased cookie sheet.
Bake for 15- 20 minutes until mummies are golden brown and the bottom is just beginning to become a darker brown.
Add mustard dots for eyes. Serve hot.