White Pizza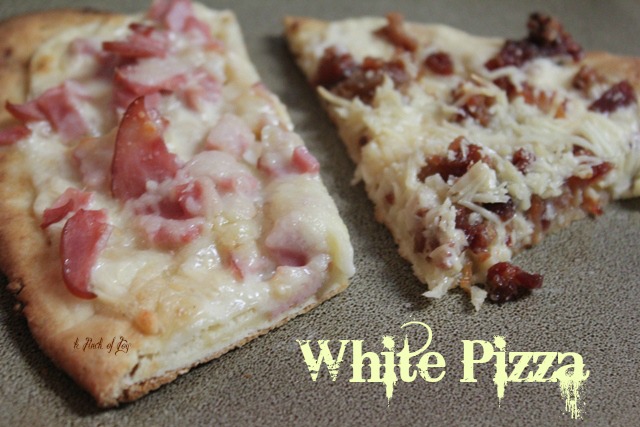 Indian flat bread
OR prebaked pizza crust
⅓ cup Alfredo sauce, plain, from the jar or your favorite recipe
Bacon, 4-5 slices cooked crisp and crumbled
½ to ¾ cup of diced ham
½ to ¾ cup spinach, coarsely chopped
½ to ¾ cup shredded Parmesan cheese
Place crust on baking pan
Spread with layer of Alfredo sauce, not quite to edge, covering evenly.
Sprinkle your choice of topping across top.
Coax shredded Parmesan into even layer on top. Add more if you like, but don't overwhelm.
If using flat bread, bake 8-10 minutes at 400 degrees, until warm through and cheese melts. If using pizza crust, bake according to directions on package or until cheese is melted and crust is golden.
Cut into serving pieces, about 2 inches square for appetizers or 4 inches square for lunch.