Monte Cristo Sandwich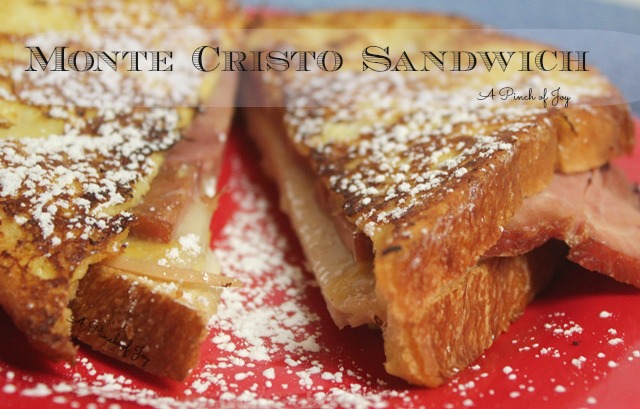 6 slices challah bread or sour dough bread
3 slices ham, thick cut
6 slices turkey breast, medium deli cut
3 slices Swiss cheese
3 teaspoons Dijon mustard
1 egg
⅓ cup of milk
Pepper to taste
3 tablespoons butter (or cooking oil)
1 tablespoon powdered sugar for dusting
⅓ cup strawberry or raspberry jam for dipping
Break egg into shallow bowl or plate, add milk and pepper and whisk together until egg is incorporated into milk. Set aside.
Lay two slices of bread on work surface and spread thinly with half a teaspoon of mustard.
Add slice of ham, slice of Swiss cheese and 2 slices of turkey breast to one slice of bread and top with second slice with mustard facing center of sandwich.
Cut sandwich diagonally from one corner to another, forming two triangles.
Put about 1 tablespoon of oil into large skillet over medium heat.
Dip one triangle sandwich into egg and milk mixture, just far enough to coat the bread. Turn sandwich over and repeat for the second side. Remove from egg mixture quickly so as not to soak the bread.
Place sandwich into skillet and repeat with the other half.
Cook on one side undisturbed for about 4 - 5 minutes until bottom side is golden brown.
Turn and cook on the second side until it is also golden brown and cheese is melted, another 4-5 minutes.
While first sandwich is cooking prepare second and third sandwiches, but stop when assembled.
After removing first sandwich from skillet, add about 1 tablespoon of oil, coat both sides of one sandwich triangle and place in skillet. Repeat with remaining triangles until all four are in the skillet. Cook as above.
Place sandwiches on plates, dust with powdered sugar.
Serve hot with spoon full of raspberry or strawberry jam for dipping.
Serving size:
1 sandwich
Calories:
323,
Carbohydrates:
50 grams,
Protein:
17 grams,