Little Napoleon Sweethearts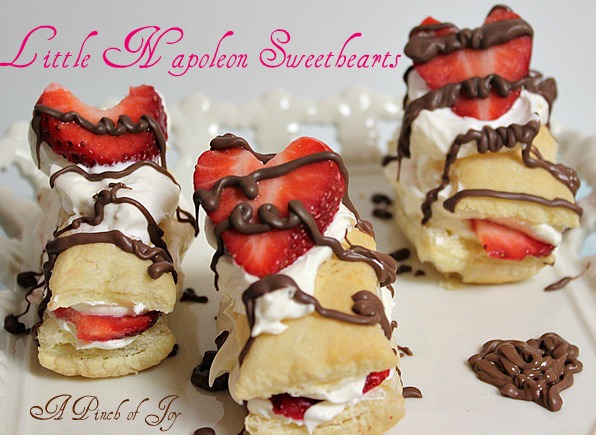 Author:
Charlene - A Pinch of Joy
1 sheet Puff Pastry
1 package instant cheesecake sugar free instant pudding
1 cup milk
8 oz frozen whipped topping
1 ½ cups sliced strawberries (frozen or fresh)
12 – 24 chocolate candy discs
Thaw pastry sheet at room temperature until easy to handle (about 40 minutes)
Preheat oven to 400 degrees.
Spray cookie sheet lightly or line with parchment paper.
Unfold pastry sheet on lightly floured surface. Cut along fold lines to make three separate pieces; then cut each third into sixths.
Place the pieces on cookie sheet and bake for 15 minutes until golden brown. Remove from baking sheet and cool.
While pastries are baking, mix pudding and 1 cup of milk in large bowl according to package directions. Gently stir in whipped topping. Refrigerate until pastries are cool.
If using fresh berries, wash stem and slice. To make heart shapes, cut notch across the top of the berry before slicing.
Split cooled pastries in half, working gently with sharp knife.
Spread layer of pudding mixture on bottom half of pastry, add a layer of strawberry slices. Add another layer of pudding mixture and top with other half of pastry.
Repeat until all pastries are filled.
Spoon a bit of pudding mixture on top of filled pastry and add one or two strawberry slices.
Place 12 chocolate discs in disposable decorating bag or corner of zipper sandwich bag. Microwave in 30 second bursts until chocolate is melted. Snip off point of decorating bag or corner of zipper sandwich bag. Drizzle chocolate quickly over the completed pastries. Repeat with remaining 12 discs if needed.
Refrigerate until serving up to 3 hours.
Recipe by
A Pinch of Joy
at https://www.apinchofjoy.com/2013/02/little-napoleon-sweethearts/