Sugar and Spice Muffins – Best Breakfast Muffins Ever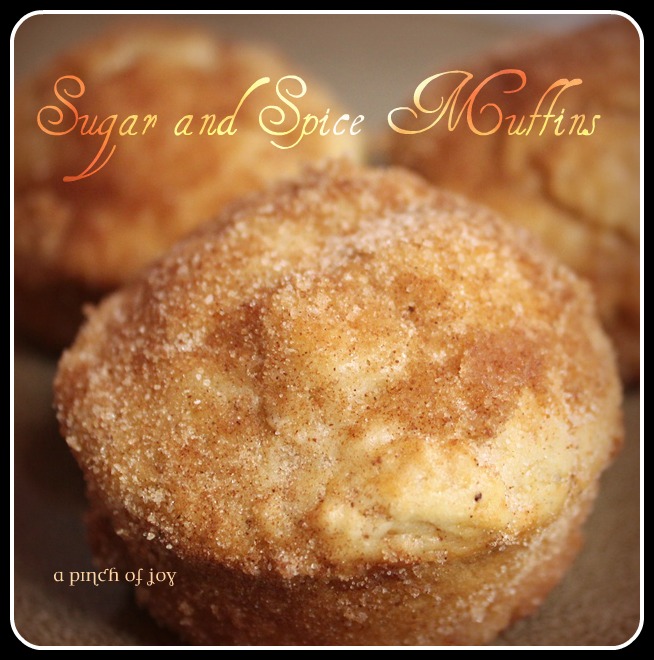 Author:
Charlene - A Pinch of Joy
Recipe type:
Breakfast / Quick Bread
Serves:
Approximately 10 muffins
2 cups all purpose flour
¼ cup sugar
2 teaspoons baking powder
1 teaspoon salt
½ teaspoon nutmeg
1 cup milk
1 egg
¼ cup melted butter
½ cup butter, melted
¾ cup sugar
½ teaspoon ground nutmeg
½ teaspoon cinnamon
Preheat oven to 375.
Spray or grease 12 cup muffin pan.
In medium bowl, mix dry ingredients well.
Thoroughly combine milk, egg and ¼ cup melted butter in a small bowl.
Add liquid to dry ingredients stirring just until all are mixed. Batter will have lumps.
Fill muffins cups just under ⅔ full. You may not use all 12 cups, depending on size.
Bake at 375 degrees for 15 minutes until toothpick inserted into middle comes out dry and muffins are turning golden.
While muffins are baking, melt ½ cup butter in microwave. Mix sugar and spices in small bowl..
When muffins are done, remove from pan to cooling rack and immediately roll muffins in butter and then sugar spice mix.
Serve immediately.
-12 muffins.
Charlene @ A Pinch of Joy
Recipe by
A Pinch of Joy
at https://www.apinchofjoy.com/2013/03/sugar-and-spice-muffins-best-breakfast-muffins-ever/