Cinnamon Swirl Oven Pancakes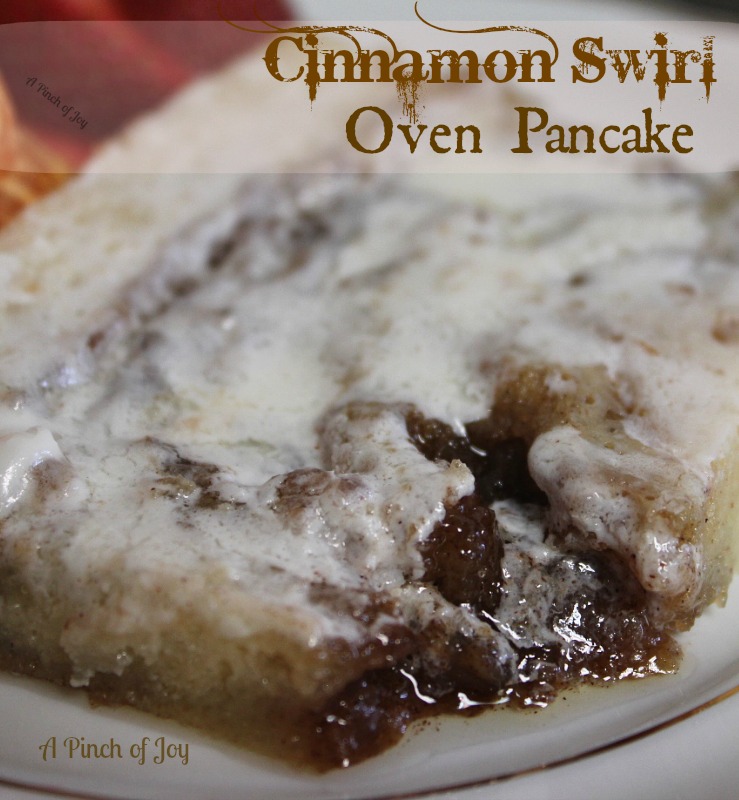 1 cup flour
⅔ cup sugar
⅔ cup milk
1 egg
1 teaspoon vanilla
2 Tablespoons butter
¼ cup butter
1 tablespoon cinnamon
⅓ cup brown sugar
2 -3 tablespoons prepared vanilla frosting, softened
Turn oven on to 350 degrees. Place 2 tablespoons of butter in 7x11 inch pan and set in oven to melt as oven preheats.
Place remaining pancake ingredients in medium bowl and whisk together until smooth.
Pour over melted butter in baking pan.
Melt ¼ cup butter for the topping in small microwave safe bowl.
Add brown sugar and cinnamon to melted butter. Mix thoroughly.
On one end of the batter in the baking pan, make a swirl over one half the batter of the brown sugar mixture.
Use a knife or teaspoon to swirl brown sugar into the batter.
Repeat for the other half of the batter. You will end up with two swirls.
Bake for twenty minutes at 350 degrees until set and golden around the edges.
Remove from oven.
Drop small bits of frosting over the top of the baked pancake and let it cool for about five minutes. Frosting will begin to melt, spread carefully and gently over the top.
Serve warm.
Recipe by
A Pinch of Joy
at https://www.apinchofjoy.com/2013/04/cinnamon-swirl-oven-pancake/