Chicken with lemon garlic sauce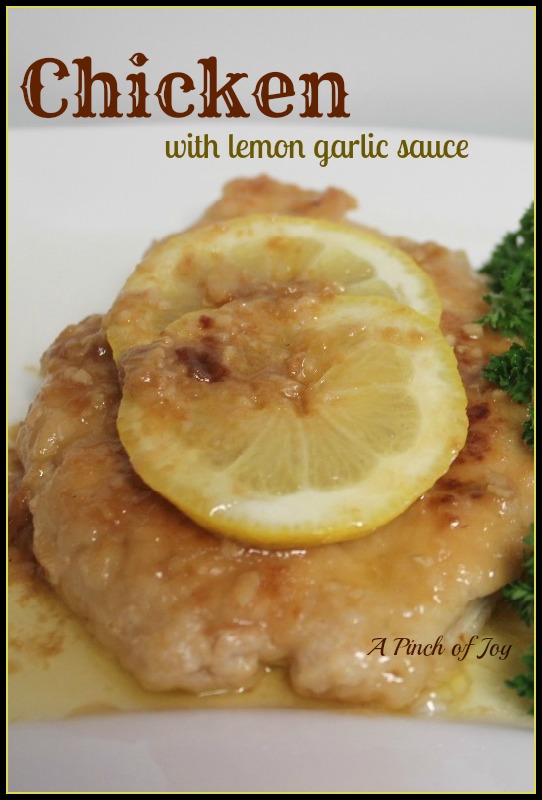 Author:
Charlene - A Pinch of Joy
4 chicken cutlets
2 Tablespoons vegetable oil
¼ cup flour
Salt and pepper to taste
¼ cup low sodium chicken broth or white wine
1 teaspoon minced garlic
½ cup low sodium chicken broth
2 Tablespoons fresh lemon juice
2 Tablespoons Butter
Fresh lemon slices
Chopped parsley
Season chicken with salt and pepper, then lightly dredge with flour.
Pour vegetable oil into skillet and heat over medium flame.
Saute cutlets about 3 minutes on each side. Cutlets will be lightly browned. Remove to warm plate and cover.
Pour off any remaining oil.
Deglaze pan by pouring in ¼ cup white wine or chicken broth to which minced garlic is added. Cook about two minutes. Garlic will be slightly brown and broth will be almost gone.
Add ½ cup broth and lemon juice. Return cutlets to pan and cook on each side about two minutes. Transfer to warm serving plate.
Add butter and lemon slices to skillet. When butter is melted, lift out lemon slices and arrange on top of chicken. Pour sauce over lemons and chicken.
Garnish with chopped fresh parsley, if desired.
Also known as Chicken Picatta.
Charlene @ A Pinch of Joy
Recipe by
A Pinch of Joy
at https://www.apinchofjoy.com/2013/04/chicken-with-lemon-garlic-sauce/