Apple and Sausage Stuffed Acorn Squash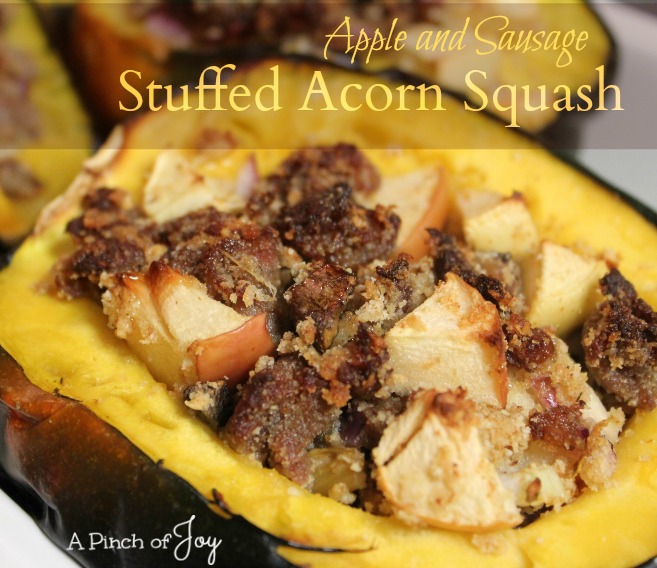 Author:
Charlene - A Pinch of Joy
Serves:
8 halves of 4 small squash, 6 halves of 3 large squash
4 acorn squash, halved and seeded
2 tablespoon butter
Salt to taste
2 tablespoons brown sugar
1 pound pork sausage
½ cup onion, finely chopped
1 celery rib, finely chopped
4 ounces mushrooms, chopped
2 apples, cored and chopped
1 cup breadcrumbs
Salt and pepper to taste
1 egg beaten
½ cup shredded Swiss Cheese, optional
Parsley for garnish, optional
Pierce squash along cutting line and microwave two minutes.
Cut in half and remove seeds. Add small amount of butter and brown sugar to each squash half and microwave again for three minutes.
Meanwhile brown sausage until cooked. Drain.
Prepare vegetables and apples.
Combine sausage, vegetable, apples and breadcrumbs in large bowl. Add salt and pepper to taste depending on sausage seasoning.
Stir in egg.
Fill squash halves with stuffing until mounded and place in baking dish. Add an inch of water to bottom of baking dish (around the squash and not on them!).
Bake in 400 degree oven for 25 minutes or until squash is tender and stuffing is set.
Garnish, if desired, with parsley and shredded swiss cheese.
Serving size:
One half squash
Recipe by
A Pinch of Joy
at https://www.apinchofjoy.com/2013/10/apple-and-sausage-stuffed-acorn-squash/