Super Delicious Chocolate Chip Cookies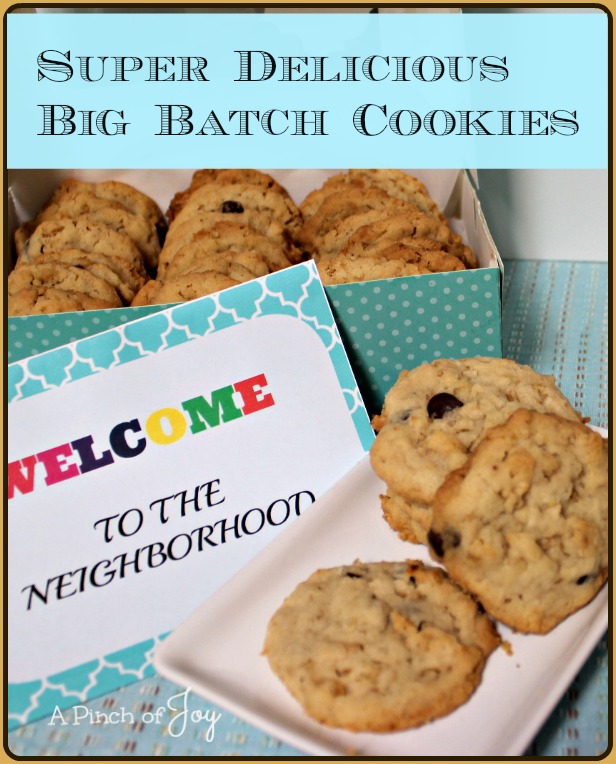 1 cup butter or margarine
1 cup oil
¾ cup sugar
¾ cup brown sugar
1 egg
1 teaspoon vanilla
3 ½ cups flour
1 teaspoon soda
1 teaspoon salt
1 teaspoon cream of tartar
1 cup coconut
1 cup oatmeal
1 cup crisp rice cereal
1 cup chocolate chips
Preheat oven to 350 degrees Farenheit.
In large mixer bowl, blend butter/margarine, oil and sugars until there are no lumps.
Add egg and vanilla, beat well.
Measure 1 cup of flour and add to mixture, blending well.
Measure second cup of flour, and soda, salt and cream of tartar and mix well again.
Add remaining flour, coconut and oatmeal and mix well.
Stir in crisp rice cereal and chocolate chips.
Bake on ungreased and/or parchment paper lined cookie sheet for 10-12 minutes, until set and golden brown on around the edges of the cookies.
Let cool about 10 minutes before removing to cooling rack.
Serving size:
1 cookie
Calories:
87
Carbohydrates:
9 g
Protein:
1 g
Recipe by
A Pinch of Joy
at https://www.apinchofjoy.com/2013/11/super-delicious-big-batch-cookies/