Apple Dumplings with Cinnamon Sauce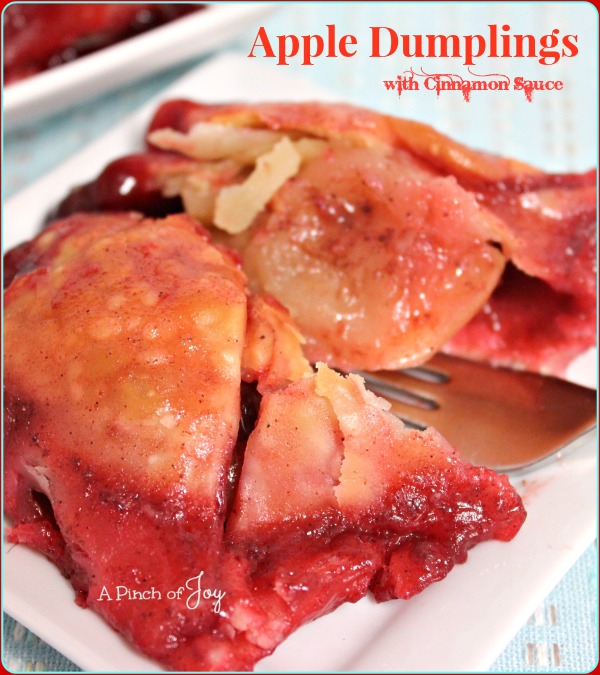 Pastry for 2 crust 9" pie
5 apples
1-2 Tablespoons butter for pat on each apple half
1 ¼ teaspoon nutmeg, approximate, divided into dash for each butter pat
1 cup sugar
1 teaspoon cinnamon
2 cups water
3 tablespoons butter for sauce
Roll out pastry into rectangle and cut into 4.5 inch squares.
Place peeled and cored apple half on each square, cavity up.
Mix cinnamon and sugar and put ½ teaspoon of mixture into each apple cavity.
Add water to remaining cinnamon and sugar, add 3 tablespoons butter and bring to boil. Reduce to medium heat and boil for three minutes. Remove from heat promptly.
In the meantime, add a pat of butter to each apple cavity.
Sprinkle each half apple with a dash of nutmeg – about ⅛ teaspoon each.
Bring pastry points to middle of apple, pressing to seal.
Place in 9x13 baking pan.
Pour hot cinnamon sauce over and around apple dumplings.
Bake at 425 for 40-45 minutes until lightly golden and syrup has thickened somewhat.
Cool for 10-15 minutes before removing from pan. Serve warm.
Recipe by
A Pinch of Joy
at https://www.apinchofjoy.com/2013/11/apple-dumplings-with-cinnamon-sauce/