Scrambled Egg Breakfast Cups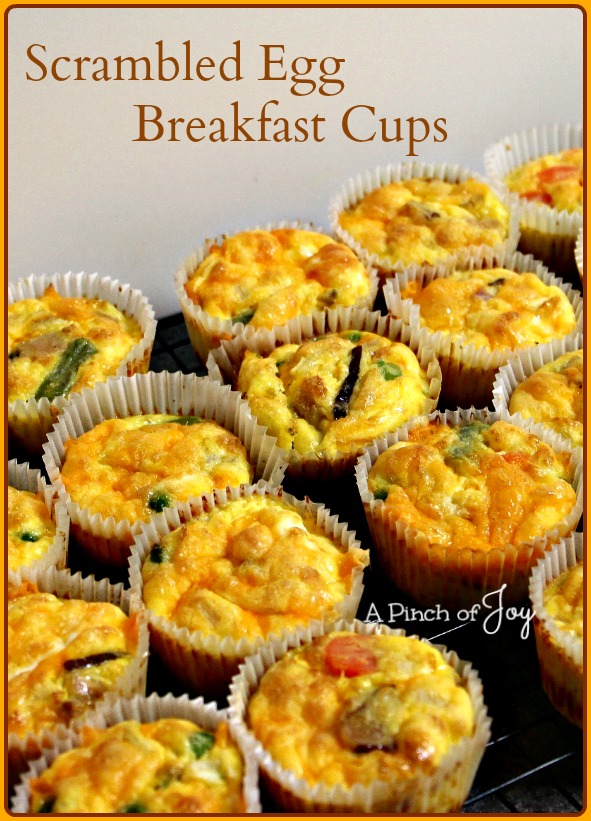 Author:
Charlene - A Pinch of Joy
16 medium/large eggs (or combination of egg and egg substitute to equal 16 eggs
½ teaspoon herb/garlic seasoning or seasoning of your choice
½ teaspoon salt
¼ teaspoon pepper
3-4 green onions, thinly sliced and lightly chopped
1 ½ cups shredded cheese
1 10 ounce package frozen mixed vegetables or your preference
Meat option of your preference:
1 pound sausage, browned and drained OR
2 ounces ham, diced OR
1 pound bacon, browned and broken into pieces OR
2 ounces Canadian bacon, diced
Prepare muffin pans by putting two cupcake liners into each cup. Lightly spray the top liner with cooking spray so that it will easily separate from the finished egg.
Into each lined cup add 1-2 teaspoons of mixed vegetables, cheese and ham or bacon. If using sausage the measurement will be about 1 tablespoon browned and drained sausage per cup. Cups should be about ⅔ full.
Turn on oven to 375 degrees so that it will preheat while you finish eggs.
Break eggs into mixing bowl, add seasonings and chopped green onions and beat until well mixed.
Carefully ladle egg mixture around the layers in each cup until cups are ¾ full. Add egg mixture to the first cup and continue to add to remaining cups, then repeat. The egg mixture will flow in and around the filler and "settle" so that more egg can be added.
Bake 25-35 minutes until eggs are puffy, slightly browned and set.
Cool before storing in refrigerator in air tight containers. Eggs will keep up to ten days in the refrigerator.
Reheat in microwave for approximately 1 minute (depending on microwave).
Nutrition values are approximate and based on the sausage option
Serving size:
1
Calories:
144
Carbohydrates:
3 grams
Protein:
8 gram
Recipe by
A Pinch of Joy
at https://www.apinchofjoy.com/2014/01/scrambled-egg-breakfast-cups/