Creamy Chicken Enchiladas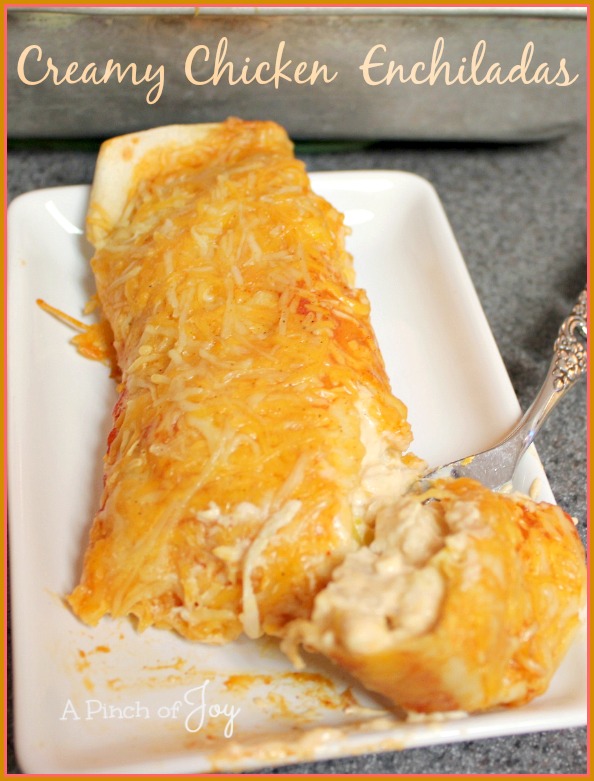 Author:
Charlene - A Pinch of Joy
6 ounces cream cheese softened
¼ cup sour cream
1 10 ounce can enchilada sauce, mild
2 cups shredded cheese, cheddar or Monterey jack
2 cup cooked chicken, cubed
1 cup corn
¼ teaspoon cumin
1 package of 8 tortillas
3 green onions, thinly sliced
Preheat oven to 350. Spray an 8 x 11 pan with cooking spray.
Cream together cream cheese, sour cream and ½ cup enchilada sauce.
Add ½ cup of the shredded cheese, the corn and cumin and mix well.
Cube or shred chicken and add to the mixture. Combine well.
Spread about half the remaining enchilada sauce in the bottom of the baking pan.
Place package of tortillas in microwave for 20 seconds to warm so they are easier to handle.
Spoon about ⅓ cup filling into each tortilla, roll to make cylinder and place in baking pan with the seam down.
When all eight have been rolled, pour the remaining enchilada sauce over the top of the filled tortillas and sprinkle the remaining cheese over the top of the sauce. Top that with the thinly sliced green onions.
Bake for 20-25 minutes until hot and bubbly.
Serving size:
1 Enchilada
Recipe by
A Pinch of Joy
at https://www.apinchofjoy.com/2014/02/creamy-chicken-enchiladas/