Chocolate Mint Fudge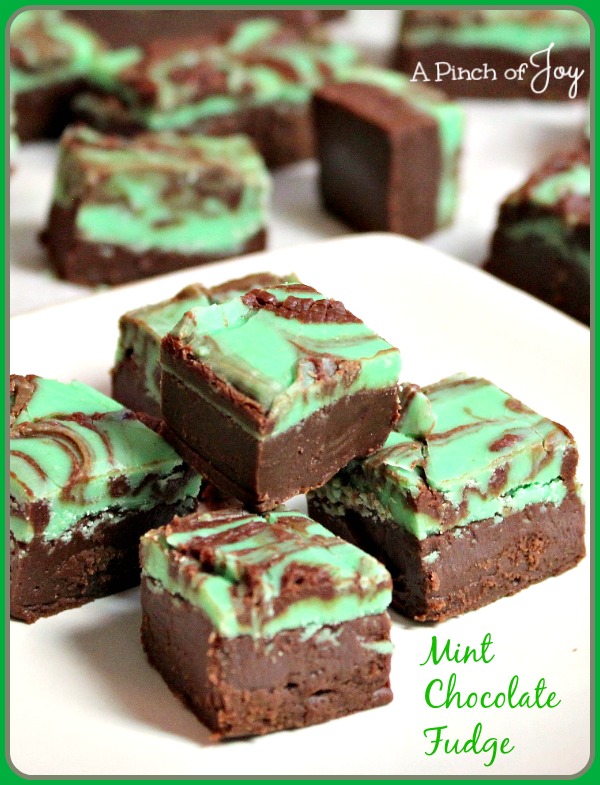 1 12 ounce semi-sweet chocolate chips
2 tablespoons butter, chunked small
1 can sweetened condensed milk, divided
1 teaspoon vanilla
1 cup (6 ounces) vanilla flavored candy coating
2 teaspoons peppermint extract
5 drops green food color
Make all preparations ahead of time, because fast work is necessary to swirl the chocolate into the green mint layer. Set out one 8x8 pan with an inch of very hot water, a small spatula for swirling, two rubber spatulas and two wooden spoons, one set for each color of candy
Line a second 8x8 pan with waxed paper parchment paper or aluminum foil, leaving two or three inches on each end. Spray lightly with cooking spray.
Place butter, chocolate chips, vanilla and 1 cup of sweetened condensed milk in microwave safe bowl with lid and set aside. Put the lid next to the pan with hot water.
Place vanilla candy coating, peppermint extract, food coloring and remainder of sweetened condensed milk in second microwave safe bowl and set aside.
Place bowl with chocolate chip mixture in microwave and cook on high for 30 seconds. Stir softened mixture well. Cook for another 30 second burst. Stir again. Mixture should be soft enough to incorporate all the butter and appear somewhat shiny. If necessary, microwave again for twenty seconds.
Quickly spread into paper lined pan, using rubber spatula. Reserve about ⅓ cup of the chocolate mixture. Set bowl with chocolate mixture into the hot water and cover with lid to keep soft.
Microwave candy coating mixture at 30 seconds on high. Stir and repeat. Mixture should be soft enough to mix thoroughly. If not, microwave for 10 second burst. Mixture should be smooth with color and flavoring well distributed.
Quickly spread green mixture on chocolate layer, working quickly and gently so as to not disturb the chocolate layer underneath.
While green layer is still soft, pick up the reserve chocolate which should be somewhat soft and drop by teaspoonsful atop the green candy. Do not add hardened chocolate to mix.
Gently draw the cutting side of the small spatula toward you in shallow motion. You can make straight lines or swirls, but be careful not to draw the first layer of chocolate into the mix.
Place in refrigerator for 2 hours to set.
Lift fudge from pan, using paper handles. Cut into 1 inch squares.
Serving size:
1 piece 1 inch by 1 inch