Salmon Patties with Creamy Dill Sauce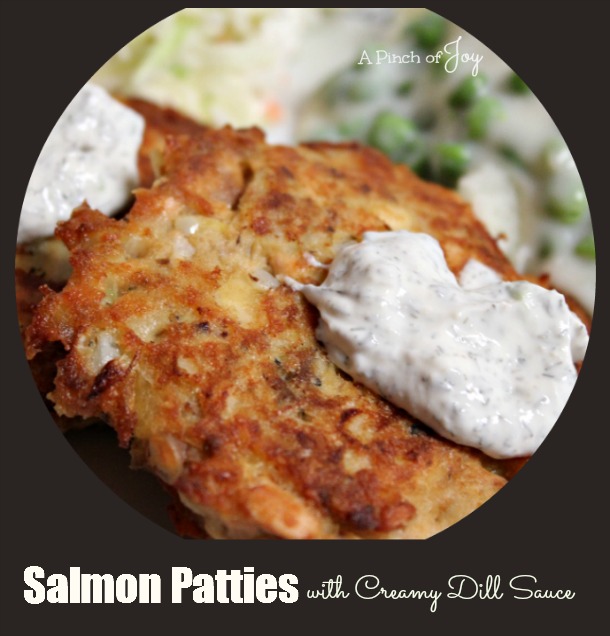 1 14 ounce can Pink Salmon
1 cup crushed saltine Crackers
1 medium onion, finely chopped
3 eggs beaten slightly
2 teaspoons lemon juice
1 Tablespoon chopped parsley
¼ teaspoon garlic salt
3 tablespoons oil for frying
¼ cup sour cream
1 teaspoon dill weed
¼ teaspoon garlic powder
1 teaspoon lemon juice
2 Tablespoons plain yogurt
1 green onion white, thinly sliced optional
Mix dill sauce up to one day ahead of time and set aside for flavors to meld.
Open salmon and empty everything in the can into medium mixing bowl. Flake salmon apart using two forks.
Add remaining ingredients except oil.
Mix well. Mixture should be moist, but still able to cling together.
Heat 10 inch skillet with 2 tablespoons of oil until oil sizzles when a bit of salmon is added.
Reduce heat to medium and add four 2 ½ inch diameter shaped patties. Cook 3-4 minutes until golden brown on the skillet side of patties, turn each one with wide spatula and cook the other side -3-4 minutes until golden brown. Repeat until salmon is all cooked.
Nutritional values are approximate
Serving size:
2 patties
Calories:
213
Carbohydrates:
3 g
Protein:
25 g
Recipe by
A Pinch of Joy
at https://www.apinchofjoy.com/2014/07/salmon-patties-with-creamy-dill-sauce/