Basic Creamed Peas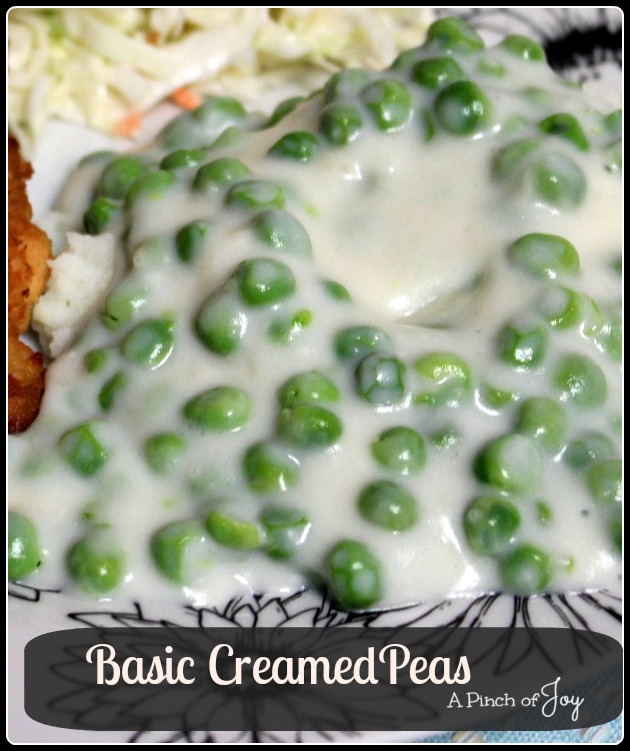 1 package frozen peas
2 tablespoons butter
2 tablespoons flour
1 cup milk
Salt and pepper to taste
Cook peas half the time specified on package directions. I use steam in package peas.
Melt butter in medium skillet or saucepan.
Add flour and stir until just blended with butter.
Whisk in about ¾ cup of milk and then add remaining milk until desired consistency is reached. If you want a thinner white sauce, add more milk one or two tablespoons at a time
Add peas and let simmer gently for about two minutes.
Season to taste
Saute ½ cup very small whole onions in additional two tablespoons of butter and then add to creamed peas.
Scrub 1 cup small (thumb sized) new potatoes. Do not peel. Cover with water and boil until they can be pierced easily with fork. Make creamed peas, but double the ingredients for the sauce. Mix together before serving.
Serve over buttered mashed potatoes as a traditional accompaniment to salmon patties.
Saute ½ cup mushrooms in 1 tablespoon butter and add to creamed peas before serving. Can substitute small jar of mushrooms for fresh sauted mushrooms.