Pear Honey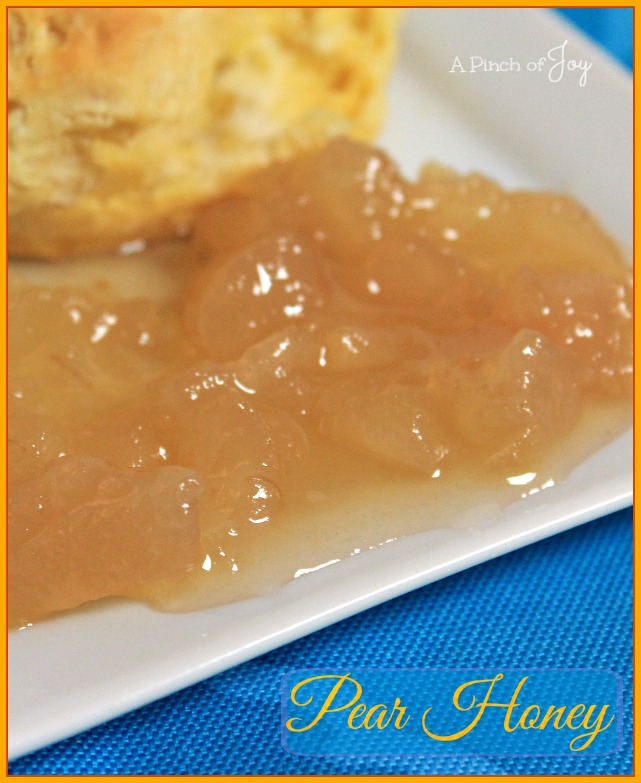 4 ½ cups chopped pears
½ cup crushed pineapple, drained
1 Lemon: juice and zest OR substitute 3 tablespoons refrigerated lemon juice.
2 cups sugar
Peel pears, if desired.
Core and chop pears into smaller than bite size pieces. Measure into large pot.
Add sugar, pineapple, juice and grated rind of one lemon (or substitute)
Bring to boil and boil for twenty minutes, stirring occasionally until last five minutes.
Stir constantly for the last five minutes as mixture thickens. This will prevent burning and break pears into even smaller pieces. Mixture will turn a light golden brown.
Remove from heat.
Prepare jar lids by placing them in hot water for at least one minute. Fill jars with hot mixture and wipe top lip of jar clean. Put prepared jar lids in place and add loosely tightened rings. Lids seal with a pop as the pears cool.
Keep refrigerated and use within 3 months.
To keep longer without refrigeration, process for 10 minutes in boiling hot water bath, let set in hot water for another five minutes before removing jars to cool. Do not store any jars on which the lids did not seal. Refrigerate those and use within three months. Processed jars that have sealed will keep up to a year as long as the seal is not broken.
Recipe may be doubled.
Serving size:
2 tablespoons