Zombie Brains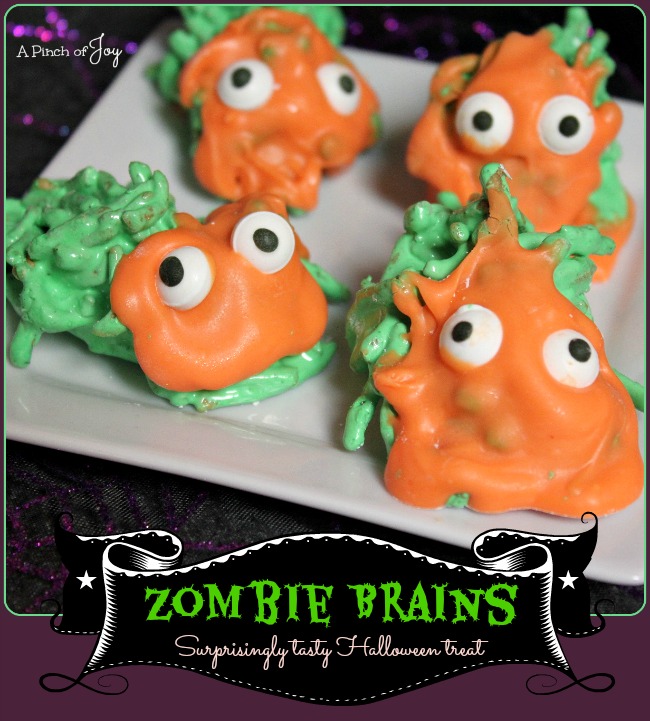 1 7 ounce container marshmallow crème
1 6 ounce bag chow mein noodles
1 cup orange candy melts
Green food coloring
Candy eyes
Approximately 1 tablespoon confectioner's sugar for sprinkling on waxed paper, if needed
Prepare ahead of time because you will be working quickly: Line baking sheet with waxed paper, sprinkle lightly with confectioner's sugar and set aside. Pour chow mein noodles in medium mixing bowl.
Scoop marshmallow crème into microwave safe bowl. Add food coloring without stirring. Microwave for approximately 30 seconds and stir. Marshmallow should be easy to stir. Microwave an additional 10 to 15 seconds, if needed.
Quickly pour marshmallow over chow mein noodles and stir well.
Drop by spoonful on prepared waxed paper.
Let set until firm about 30-60 minutes.
Melt orange candy melts in microwave according to package directions.
Dip each candy half way into the orange candy coating. OR spoon candy melt over half the candy.
Let set approximately five minutes to slightly firm the candy melt and add two candy eyes to each piece. Let set another 10-15 minutes till firm to touch.