Dirty Bones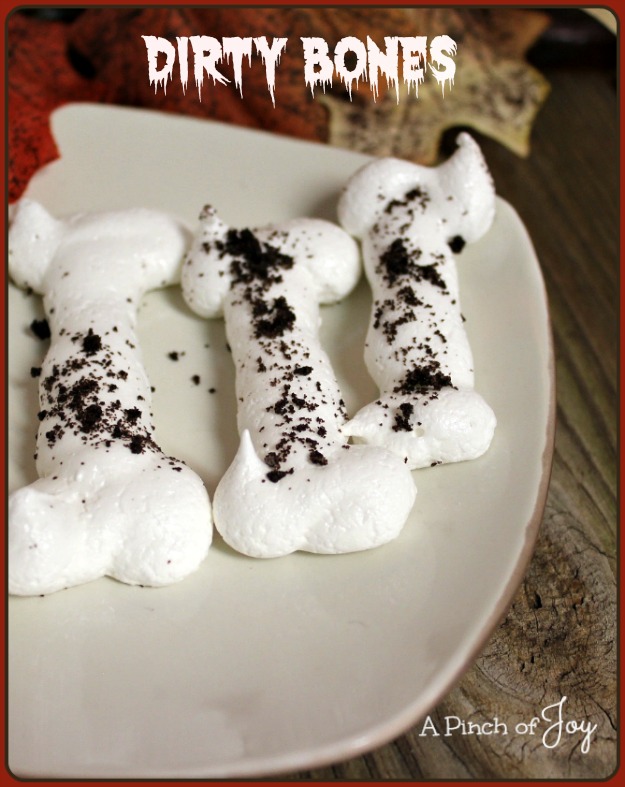 1 ½ cups sugar
⅛ teaspoon salt
½ teaspoon cream of tartar
5 egg whites, room temperature
1 teaspoon almond flavoring
2 chocolate cookies, such as Oreos with middles removed, crushed
Let eggs set for 30 minutes to reach room temperature.
Separate white from yolk and set yolks aside for another purpose.
Beat egg whites and cream of tartar in large bowl at medium speed until soft peaks form.
Continue beating at high speed and begin adding sugar very slowly, two or three tablespoons at a time. This may take three minutes or more.
Continue beating at high speed until stiff peaks are formed. This may take 15-20 minutes. Meringue should be shiny and smooth.
While egg whites are beating, preheat oven to 225 degrees and prepare two baking sheets by lining with parchment paper. Prepare pastry bag with #10 or #12 plain tip. (OR zipper bag with corner cut off to make half inch opening.)
When meringue reaches stiff peaks, add extract and beat just until blended.
Fill pastry bag. Pipe a figure eight or s-shape and move tip to form straight line of meringue about 2-3 inches long and finish by moving tip to pipe a second figure eight or s-shape at the bottom. Lift piping bag with swirling motion to break flow at end while keeping meringue fluffy. Repeat until both cookie sheets are filled.
Crush chocolate cookies and sprinkle over "bones" to give illusion of dirt clinging to bones.
Bake for 30 minutes. Turn off oven. DO NOT OPEN OVEN DOOR. Leave cookies in oven overnight.
Serving size:
1 cookie
Calories:
28
Carbohydrates:
6 g
Protein:
1 g