Halloween Fudge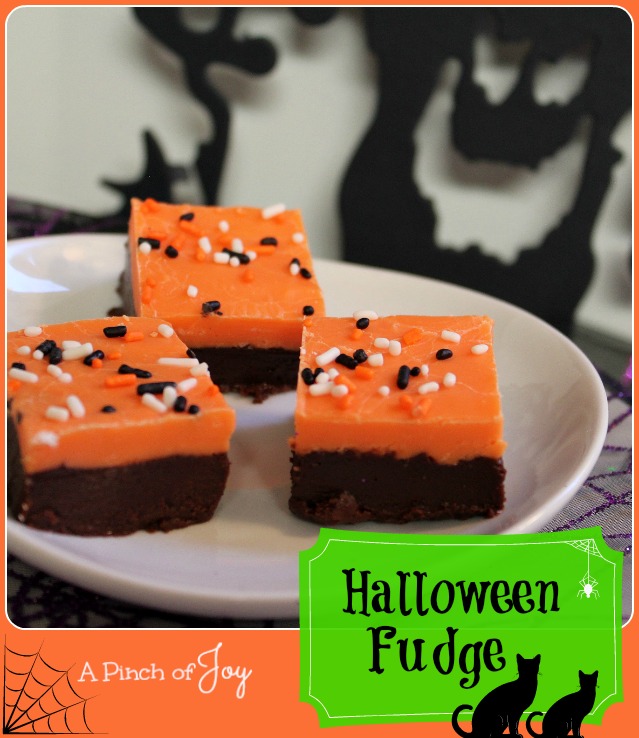 2 cups chocolate melts
1 14 ounce can sweetened condensed milk, dividd
8 ounces orange candy coating
¼ teaspoon orange extract
Orange paste food coloring, optional
Line an 8 x 8 inch pan with foil or waxed paper, leaving an extra 3" of foil or paper on each end. Spray generously with cooking spray. Set aside
In microwave safe bowl, heat chocolate and 1 cup milk for 30 seconds. Remove from microwave and stir. Repeat 30 seconds in microwave and stirring until mixture is smooth, usually about 90 seconds total.
Pour chocolate mixture into prepared pan and place in refrigerator for about 10 minutes.
Place orange candy coating in microwave safe bowl and add remaining milk, then microwave for 30 seconds and stir. Repeat 30 second microwave bursts and stirring until mixture is smooth.
Stir in extract and food coloring if desired.
Spread orange layer over cooled chocolate layer
Chill for an hour or until firm.
Using waxed paper or aluminum foil "handles" remove fudge from pan to cutting board.
Cut fudge into 1 inch squares.