Elegant Crusted Pork Tenderloin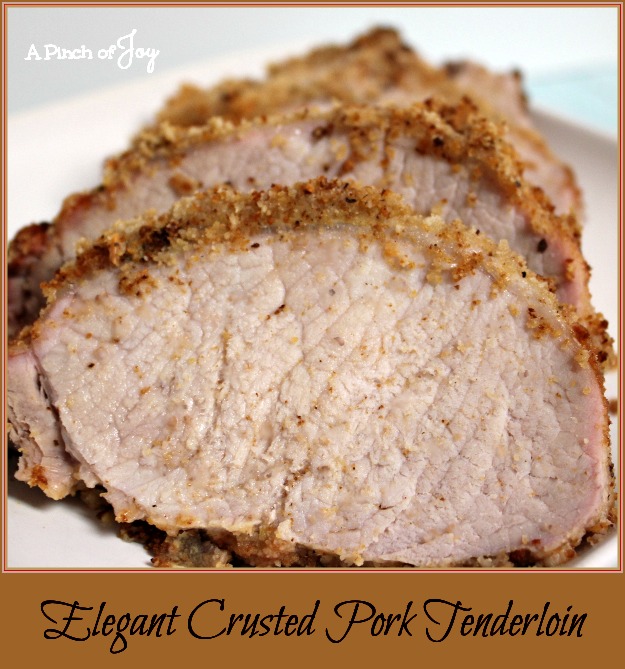 Author:
Charlene - A Pinch of Joy
2 cups seasoned Italian Dressing bread crumbs
½ teaspoon salt or to taste
½ teaspoon garlic powder
¼ teaspoon pepper or more to taste
½ cup olive oil
2 pound pork tenderloin
Preheat oven to 425 degrees.
Line shallow baking sheet with aluminum foil to simplify clean up or use a good non-stick baking pan. Spray whichever you use generously with cooking spray.
In medium mixing bowl, mix all dry ingredients with oil.
Pat tenderloin dry.
Make a bed of crumbs the size of the tenderloin and about one fourth inch deep in bottom of baking pan. Press tenderloin firmly into bed, then pat remaining crumbs on top and side of tenderloin about one fourth inch thick to cover thoroughly.
Make a tent of aluminum foil to cover tenderloin so that it does not burn. Bake about 15 minutes, remove foil and continue baking uncovered for another 10 to 20 minutes until golden. If using meat thermometer, internal temperature should be between 145F (medium rare) and 155 (medium well).
Remove from oven and let meat rest for at least 5 minutes before slicing with sharp knife into half inch thick slices.
Recipe by
A Pinch of Joy
at https://www.apinchofjoy.com/2014/11/elegant-crusted-pork-tenderloin/