Pin It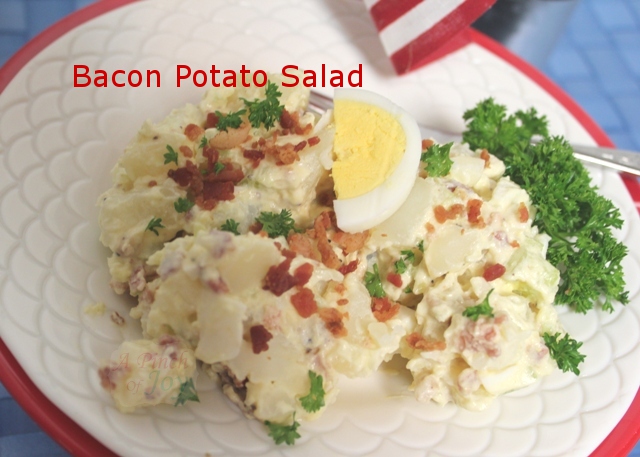 Tis the season for salads, sandwiches and picnics.  This potato salad is a summer favorite.  Somehow those summer favorites just don't taste the same when there is no sunshine around!
Ever wonder why sometimes potato salad comes out creamy with nice firm potatoes and other times the same recipe is mushy and dry.   I went looking for the answer.  Just cause I'm curious that way.  And I figure if I am — so is someone else.  The reason is the type of potatoes we use.  I even tried it with two different kinds of potatoes.  Just for you.  'Tis true, my friends — the type of potato makes the difference!
Red potatoes or Yukon gold are what is called  waxy potatoes.  They hold their shape well and meld in with the dressing without absorbing it so the salad remains creamy.  Russets, in the "floury potato" category, are more dry so they absorb the dressing.  They also  tend to fall apart and to be somewhat gummy –  more desirable for baking or mashing.  Whichever you use, don't forget to salt the water you cook them in.   Nutritionally all potatoes are a good source of Vitamin C and potassium. They have no cholesterol and are low in fat.  A potato, boiled with skin, is 20 carbs per one cup serving.  Anyone counting carbs will want to eat in moderation, limiting to one serving,  and balance with protein for the rest of the meal.
Today I happened to have a half pound of bacon left from another recipe. Most of the time, I don't use sliced bacon quickly enough and end up throwing it out.    However, a very acceptable substitute for crumbled bacon in recipes are the real bacon crumbles found in the grocery store in the salad fixin's aisle.  Not the artificial ones, but the ones made from real bacon.  Use one tablespoon per two slices of bacon.  Homemade crumbles come in at 6 grams of fat per serving.  Packaged crumbles are 1.5 grams of fat.  Sodium levels in the packaged bacon is 220 mg per tablespoon  vs 300 mg for 2 slices of bacon.  And the packaged bacon keeps longer, thaws quickly if you need to preserve by freezing and there is no messy bacon grease disposal.  And you know how you always want to add extra bacon – cause if a little is so good, a lot is a lot better?  Well, you can do it guilt free . . . .
In the summer, I often keep hard boiled eggs in the refrigerator for quick snacks, egg salad sandwiches or to add to a tossed salad.  Makes them easy to add to recipes like this – and to slice an extra one on top for added color.  You can use 3 or 4 green onions instead of the diced onion for a more delicate flavor.  I used to slice the celery thinly, now  I just used the same chopper I bought for chopping onions.  We decided we liked the smaller crunch better.  You can also leave the skin on the potato, especially if using the waxy potatoes.  My preference is to peel because I think it looks better, but that's just me.
Ingredients
3 eggs, hardboiled
4-6 slices bacon, crisped and crumbled OR 2-3 Tablespoons packaged real bacon bits.
6 medium potatoes, about 2 pounds, scrubbed and cut in half with peels left on
½ cup low fat sour cream
½ cup olive oil mayonnaise
1 tablespoon Dijon mustard
2 Tablespoons minced onion OR 3 green onions and tops sliced thin
3 stalks celery, minced
2 tablespoons chopped fresh parsley
Salt and pepper to taste
Instructions
Place the potatoes in a pot with enough salted water to cover, and bring to a boil. Cook for 15-20 minutes, or until tender enough to insert fork. Begin to check frequently after 12-15 minutes at a boil to prevent overcooking. Drain and cool.
Meanwhile, place eggs in a saucepan and cover with cold water. Bring water to a boil and remove from heat. Cover, and let eggs stand in hot water for 12 minutes. Drain hot water, and place eggs in cold water to cool.
While potatoes and eggs are cooking, place bacon slices in the microwave on bacon crisper for about 4 minutes, until crisp. OR fry in a skillet over medium-high heat. Crumble half of the bacon slices into the mayonnaise mixture. Reserve the rest for garnish.
Mix sour cream, mayonnaise and mustard.
Mince onion and celery. Crumble bacon, set aside about a tablespoonful. Peel eggs and dice. Add each to mayonaisse mixture.
Peel somewhat cooled potatoes by inserting point of sharp knife under the peeling and gently pulling off the warm potato. Cut the potatoes into smaller than bite sized pieces, and let cool until lukewarm on the cutting board. Then stir into the bowl until evenly coated.
Add salt and pepper to taste.
Crumble the remaining bacon over the potato salad, then sprinkle chopped parsley over the top.
Refrigerate at least four hours, overnight is better.
Serve cold. Makes about 8 servings.
http://www.apinchofjoy.com/2012/05/bacon-potato-salad/
If you enjoyed this recipe, please pin it using the button at top or share with one of the buttons below.  You can subscribe by email or RSS feed, follow on facebook or twitter so you don't miss a thing. 
Linking up to these awesome parties here and   , Sundae Scoop, Linky Party Sunday, Nifty Thrifty Sunday,  Sunday's Best Party, Creative Blogger's Party and Hop, Weekend Warrior, Sunday Showcase,  Mix It Up Monday, Make It Monday,  .Manic Monday,  .Make it Great,   , Mouth Watering Monday,  Market Yourself Monday,. Made By You Monday , Motivate Me Monday , Gunny Sack ,   More The Merrier, Polly Want a Crafter Inspire Me Monday, Show It Off, Mealtime Monday . . Tutorials and Tips    , Tasty Tuesday ,  Gathering Spot,  Totally Tasty Tuesday , Tuesday Talent Show, Wow Me Wednesday. . .  Whatever Goes Wednesday ,    Cast Party Wednesday,  Anything Goes,  Mrs. Hines' Class,   Wow Me Wednesday, We Did It!, Home Décor and Organizing  . .   Full Plate Thursday , Show Off Your Stuff, Hookin' Up, , Share Your Creation,  Thrifty Thursday,   Chic and Crafty,    Catch a Glimpse  , Tasty Thursday ,   Crafty Blog Stalker . . . Flaunt It Friday,  Fridays Unfolded,    Inspiration Friday ,  Delicately Constructed , Simply Link Party,   Foodie Friday, Home and Family,  Weekend Wrap Up ,  Whatcha Got Weekend , Addicted2Decorating, Kitchen Fun,  The Grant Life , Shine on Fridays . . .. Strut Your Stuff Saturday , Serenity Saturday, Check Me Out,  Saturday Night Special,  Saturday Seven, Show and Tell Saturday,
Related posts: