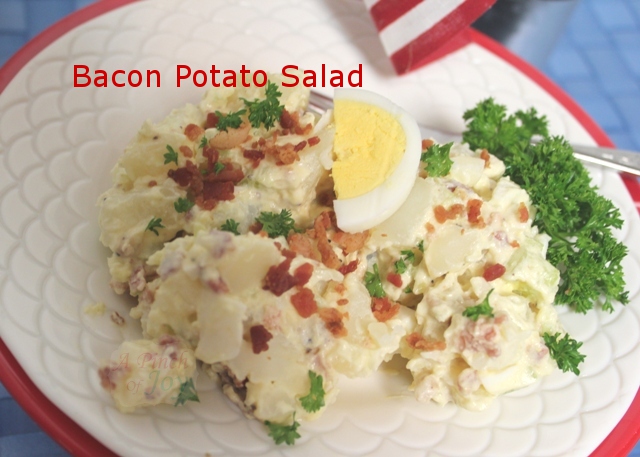 Tis the season for salads, sandwiches and picnics.  Bacon Potato Salad is a summer favorite at our house.  Somehow those summer favorites just don't taste the same when there is no sunshine around!
Ever wonder why sometimes potato salad comes out creamy with nice firm potatoes and other times the same recipe is mushy and dry.   I went looking for the answer.  Just cause I'm curious that way.  And I figure if I am — so is someone else.  The reason is the type of potatoes we use.  I even tried it with two different kinds of potatoes.  Just for you.  'Tis true, my friends — the type of potato makes the difference!
Red potatoes or Yukon gold are what is called  waxy potatoes.  They hold their shape well and meld in with the dressing without absorbing it so the salad remains creamy.  Russets, in the "floury potato" category, are more dry so they absorb the dressing.   Russets also  tend to fall apart and to be somewhat gummy —  more desirable for baking or mashing.  If you have no choice but to use russets,  add an extra tablespoon or two of sour cream to help keep the potato salad moist. Whichever you use, don't forget to salt the water you cook them in.   Nutritionally all potatoes are a good source of Vitamin C and potassium. They have no cholesterol and are low in fat.  A potato is 20 carbs per one cup serving.  Anyone counting carbs will want to eat in moderation, limiting to one serving,  and balance with protein for the rest of the meal.
Today I happened to have a half pound of bacon left from another recipe. Most of the time, I don't use sliced bacon quickly enough before it begins to grow blue fuzzies. However, an acceptable substitute for crumbled bacon in recipes are the real bacon crumbles found in the grocery store in the salad fixin's aisle.  Not the artificial ones, but the ones made from real bacon.  Use one tablespoon per two slices of bacon.  Homemade crumbles come in at 6 grams of fat per serving.  Packaged crumbles are 1.5 grams of fat.  Sodium levels in the packaged bacon is 220 mg per tablespoon  vs 300 mg for 2 slices of bacon.  And the packaged bacon keeps longer and there is no messy bacon grease disposal.  And you know how you always want to add extra bacon – cause if a little is so good, a lot is a lot better.

In the summer, I often keep hard boiled eggs in the refrigerator for quick snacks, egg salad sandwiches or to add to a tossed salad.  Makes them easy to add to recipes like this – and to slice an extra one on top for added color.  You can use 3 or 4 green onions instead of the diced onion for a more delicate flavor.  I used to slice the celery thinly, now  I just used the same chopper I bought for chopping onions.  We decided we liked the smaller crunch better.  Diced red pepper gives a spark of color, but that is optional.

Featured at Create With Joy!

I'm so glad you stopped by today!   Be sure to follow A Pinch of Joy so you don't miss a thing!   Subscribe:  email  on the sidebar  or follow on Facebook /   bloglovin' /   twitter  and check out my  pinterest boards.   Share: if you found this helpful or inspiring please click one of the buttons below!  Your support of A Pinch of Joy is appreciated!
Save
Save
Save
Related posts: