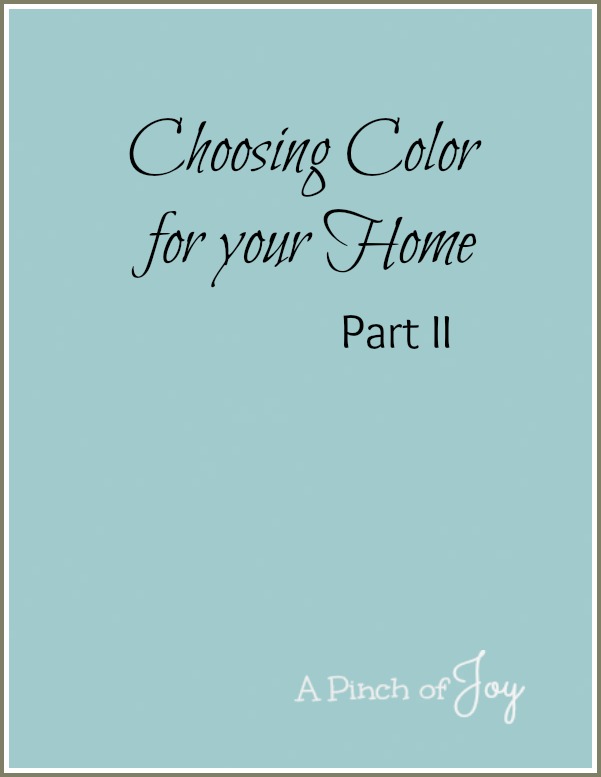 An oft repeated rule of thumb in choosing color for your home is to start with an accessory you love.  The theory is that it is easier to match paint to a color in an expensive or sentimental painting, vase, pillow than it is to find accessories to go with the color. I did that in our kitchen.  Only the color inspiration was a set of mugs and trivets from a garage sale that cost $2.  Something in the color combination just sang.  And now our kitchen sings the same tune. 
 Then I fell in love with a color and dived in head first. 
 Pun fully intended!!  Since the name of the color is Sunken Pool.  See above!  Isn't that just gorgeous?!!!!  IRL it is! 

 We chose that color for our powder room on the main floor.  The itty bitty room.  I didn't have accessories that I wanted to feature and was more than willing to choose new ones.  We used bright white trim to make the bold color pop.  Loved it so much that we chose a sister color – just a bit lighter than Sunken Pool.  The dining room is Artesian Well.  Loved the results so much that we went just a bit lighter for the office walls – Morning Fog.  And then repeated that for the wall above the made over fireplace. 
 We were following another rule of thumb – repetition of a design element is pleasing.  Repetition of a color you like in varying values certainly play well together, so well, in fact, that such combinations earned their own name – monochromatic.  The color family we chose was a classic.  Turquoise is a universal color because almost every culture uses it in some form and attaches positive meaning to it.  Maybe because almost everyone looks good in turquoise.  Sunken Pool, Artesian Well and Morning Fog describe different aspects of one color family. 
 Another rule of thumb: colors that play well together as you move from room to room in the house provide the most satisfying surroundings.   Repetition is not the only way to achieve this.  Choosing colors with the same undertone for use in adjacent rooms helps color siblings get along.  This is where many people get frustrated because they don't pick up on the undertones.  Or aren't able to distinguish among the many different shades of colors.   So  hire a decorator.  Too expensive and time consuming for most of us.   People are much more likely to give up and reach for the "neutral"  paint.   But there are other choices! 
 And another rule of thumb!  My favorite!  Variety is the spice of life!  As much as I love turquoise the thought of painting every wall blue made me — well, blue!  We needed other satisfying colors to liven things up. 
Fortunately the paint companies make things very easy for us!  IF we take the time to look around a bit.  Almost every major manufacturer has a website with a color chooser.  If choosing color on a computer is not your thing, wander over to the paint display next time you are in the home improvement store.  Many paint brands will have some way to indicate which colors "go with" other colors.  Some will have swatches with a main color and four or five go-withs printed on the same swatch.  Others will have a proprietary method of indicating go-withs so you can put together your own choices.  
The colors I named above are Martha Stewart colors (now sold at Home Depot in the Glidden mix).  Each swatch has an icon in the corner.   Match the icons in the corner and you know those colors will work together very well.  Use those for the main colors in your home. The back of each swatch also has suggestions for accents and trim. Names are often another clue — like the three we chose all involve water.  Martha did the heavy lifting of distinguishing among the many nuances of colors and left us with the fun part of creating a personally pleasing palette for our own home. 
Other brands have different ways of indicating which colors work well.  Some make it very obvious, as Martha Stewart did with the icons. Others are more subtle, using swatch groupings. I like these systems because I love color and  I want lots of choices. Best of all, they are available to everyone for the asking.  You don't need special training for success, no extra time required to use the systems and they are almost fool proof.  Sort of a Plug and Paint! 
I can't tell you how long I carried around the swatches before I noticed the icons.  And then figured out how they worked.  All long before I actually saw an explanation.  That is what got me to look at other brands and how they worked.  My favorite paying jobs have been playing with color choices so if it took a while for me to figure this out – well, maybe I am just slow.  Or maybe this information will help someone else to find their own color love! 
I'm so glad you stopped by today!   Be sure to follow A Pinch of Joy so you don't miss a thing!  I'd love to have your company on this venture!!

Subscribe:  email  on the sidebar  or follow on Facebook /  RSS feed  / bloglovin' /   twitter  and check out my  pinterest boards.   Share: if you found this helpful or inspiring please click one of the buttons below!  Your support of A Pinch of Joy is appreciated!
Linking up to these awesome parties here and, ,Nifty Thrifty Sunday  /   Share Your Creativity  /    Sunday Showcase  / Let's Get Social /  Bewitch Me and Titi  /  Monday Funday / . . . / Inspiration Monday /  Motivate Me Block Party   / Making It Pretty  /  Marvelous Mondays / CraftoManiac Monday / Sew Darn Crafty / / Sweet Sharing Monday / Melt in Your Mouth Monday / More The Merrier /Made By You Monday / Pincentive /  Time to Sparkle / Give Me the Goods / The DIY'ers / Manic Monday /  / . .Twirl and Take a Bow Tuesdays Treasures  / /  Create Link Inspire  / Tutorials and Tips  / You're Gonna Love It / / /  Titus 2 Tuesday  / Totally Tasty Tuesday  /  Tuesday Talent Show, /  Wow Me Wednesday. . . Hit Me with Your Best Shot  / Homework Wednesday / The Inspiration Exchange /  Cast Party Wednesday  / Pretty Wednesday /  Wow Me Wednesday   /Wine'd Down Wednesday  /Wednesday Project Stash /  Wonderful Wednesdays / We Did It!/   It's A Party  / Whimsy Wednesday / Wildly Original  / Homemade By You / Delish Desserts /Lovely Ladies  / Work It Wednesday / . .  . Full Plate Thursday  / Showcase Your Talent / Krafty Inspiriation  / All Things Pretty /  Throwback Thursday / Crafty Blog Stalker/ Fantastic Thursday /   Tasty Thursday  ,  Chic and Crafty,  Catch a Glimpse ,   Grace at Home,  Kitchen Fun,   Thrifty Thursday. .  Feathered Nest Friday  /  I'm Lovin' It /  Flaunt It Friday /  What's Shakin /  Link Party Palooza  / Foodie Friday / Anything Goes./ Freedom Friday / Remodelaholic Anonymous /  Simple and Sweet Fridays  /  Be Inspired Friday / Friday Link Party  /. . . .   /A Bouquet of Talent   / Party Junk /  Saturday Dishes / Saturday Show and Tell / Strut Your Stuff Saturday /   Serenity Saturday, / Pin It Saturday /  Saturday Spotlight /  Saturday Showilicious /