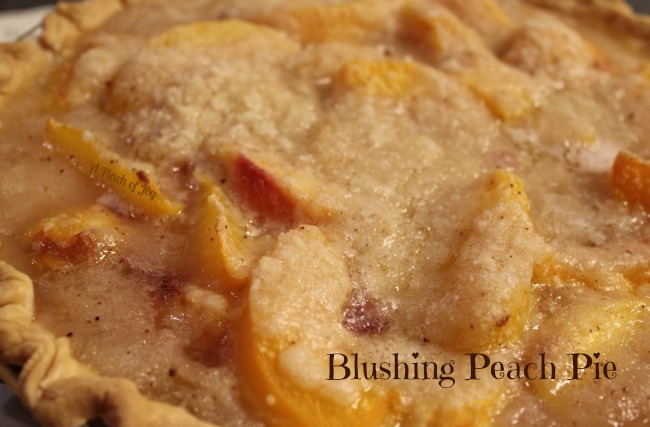 "Peach pie is my favorite."  Wheels didn't tell me that until we had been married for at least eight years. Apparently, Wheels believes new information keeps marriage fresh because he springs this kind of stuff on me every once in a while. Come to find out his mom and sisters made wonderful peach pie that was the stuff of dreams.   I know when I am outclassed in the competition so we just kept that special peach pie a mom/sister thing.  But this year, for his birthday, it was time for me to make Wheels a birthday peach pie.  Actually,  his sister  – 1000 miles away –  kept mentioning the peach pies she was making for the freezer and got his taste buds all wound up.  I had the recipe and he bought some peaches.   The pie turned out beautifully and tastes wonderful.  Do you smell conspiracy or is it just me? 😉
A "splurge" on any eating plan is a must to keep you from feeling deprived.  The secret is to limit those splurges to a very few times per year.  A birthday warrants special treats so it is easy to plan ahead.   And this one is worth the wait.   By the way, Wheel's sister shared the secret recipe for pie crust – come a little closer and I'll let you know too.   Buy it ready made at the grocery store – shhhhhh.   If you want to use your own secret recipe for pie crust, as Wheel's mother and grandmother did, please do, but I honored the new family tradition.
You can cut the butter into the dry ingredients for the topping with a fork, but I really recommend a pastry cutter.  I don't have many specialty tools in my kitchen and don't make a lot of pastry, but this is one  piece worth having because it is so much faster.  Resist the temptation to add cinnamon to the recipe – at least until you've made it with just the nutmeg at least once.  The ever so subtle flavor of the nutmeg enhances the peaches sublimely!    Happy Birthday, Wheels!

Blushing Peach Pie
Delicious peach pie with a nutmeg struesel topping. Wheels favorite!
Author:
Charlene - A Pinch of Joy
Ingredients
1 c sugar
½ c flour
¼ tsp nutmeg
¼ c butter
2 c sliced peaches
¼ c water
1 9" pie crust
Instructions
Line 9 inch pie pan with crust.
Cut together sugar, flour, nutmeg and butter until mixture forms fine crumbs
Place half the flour mixture in the bottom of the pan.
Add the sliced peaches. Fresh, frozen or canned (drained) all work well.
Sprinkle with the water.
Put the remaining flour mixture on top.
Bake at 375 for 40-50 minutes until crust is golden and top looks "set".
Approx 33 carbs per serving.
Please Pin! 
I'm so glad you stopped by today!   Follow A Pinch of Joy using the icons on the teal bar at the top of the page so you don't miss a thing!   I'd love to have your company on this venture!!  Share: if you found this helpful or inspiring please click one of the sharing buttons below!  Your support of A Pinch of Joy is appreciated!
Shared with these awesome link parties here