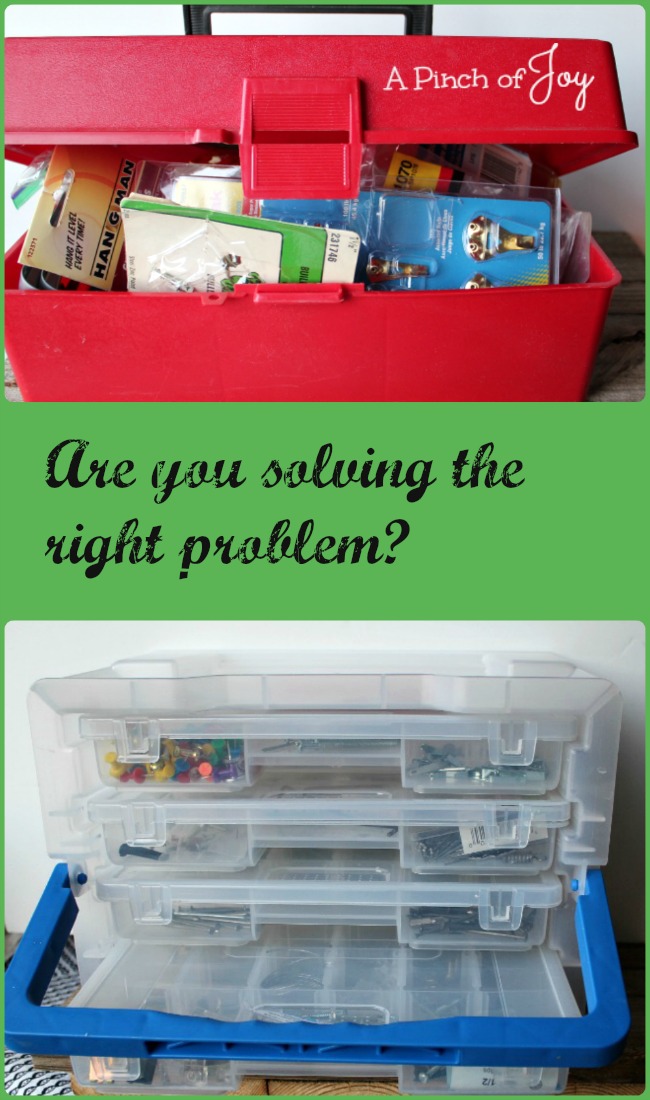 Once upon a time, a long, long time ago . . . . Whenever I wanted to hang some pictures or fasten down a piece of renegade trim it took forever!   Rummaging around in the garage for nails, tape measure, hammer.  Shoving stuff around on a crowded shelf, unseen little boxes of little nails would shoot out on to the garage floor.  Clean up the mess – of course, they were not what I needed for my project – and continue the search.  Then one day I saw a little red toolbox Wheels cast aside – not big enough for him, but just right for me.  I thought.  I gathered up all the little nail packages and then as I found them or acquired new nails, hooks, fasteners and other miscellanea I threw them in the little red box.  And congratulated myself on being "organized".   After all, we had a little red box called Picture Hanging Box setting on the shelf.
Nope, not the happy ending for this tale.
You see,  we  (umm, that would be me )—–  I am on a redoing and redecorating kick.  So I pulled the little red box out and began to rummage through searching out hardware for the current project.  Little boxes of white nails dropped out all over the floor.  I picked them up and stirred some more.  A package of gold nails fell out, followed by a package of big picture sawtooth hanger thingys and a package of cup hooks that were stuck to a baggie full of 2 inch finish nails.  Whaddaya mean – necessary???  Of course, they are all necessary – or at least were once!  It occurred to me that I was still rummaging and cleaning up disorganized messes and taking twice as long to do something as it really needed.   The first thing I did was get rid of mismatched items and things I am sure will never be used.  I had in mind a better container, one where things were not all jumbled in a box with a lid that didn't latch more than it did.  I'd seen organizers with multiple compartments in craft stores, but I spotted one the right size at the right price in a discount store.  I grabbed it quick because it so looked lonely and forlorn up there on the shelf all by itself.  Translation: I knew it would be gone if I didn't get it then.
Not only did I empty the red box into the new compartments, I was able to add other items.  Some nails and screws in different sizes from the supply in the garage so I didn't have to scrounge for different lengths  when I needed just one.  A place to keep the pushpins, that although seldom used, are necessary and taking up space in a drawer.   A place to sort the mollies by size – I didn't realize how many different kinds and sizes were in that package!   And to put the shelf hangers that seem to vanish whenever shelf height is changed or a new one added.  Things that consume time when needed, but never cross your mind otherwise.   It brought me joy to really organize things so I could quickly accomplish a given task.
Then I realized there was meaning underneath the surface.  With the Red Box I only solved the problem of getting things together.  While that saved some time from the old way of stacking things helter skelter on multiple shelves, it did not tackle the real issue. What I really sought was a way to keep things together so they could be retrieved easily and used quickly.  Now if I need a nail,  I remove the one drawer I need, leaving the screws and mollies, hooks and hangers untouched. I open the individual drawer lid and reach for the nail in its own little divider.  No stress, no hassle – that's joy!   How many times have we subtracted joy from our lives by solving the wrong problem?
Here's to problems solved and other joys for the coming week!
I'm so glad you stopped by today!   Be sure to follow A Pinch of Joy so you don't miss a thing!   Subscribe by email  on the sidebar or follow on Facebook, RSS feed, bloglovin' or twitter   using the links here or the blue buttons on the header!   Follow  my pinterest boards here.    If you found this helpful, please share on your favorite network by clicking one of the buttons on the bottom of this post.
Save
Save
Save