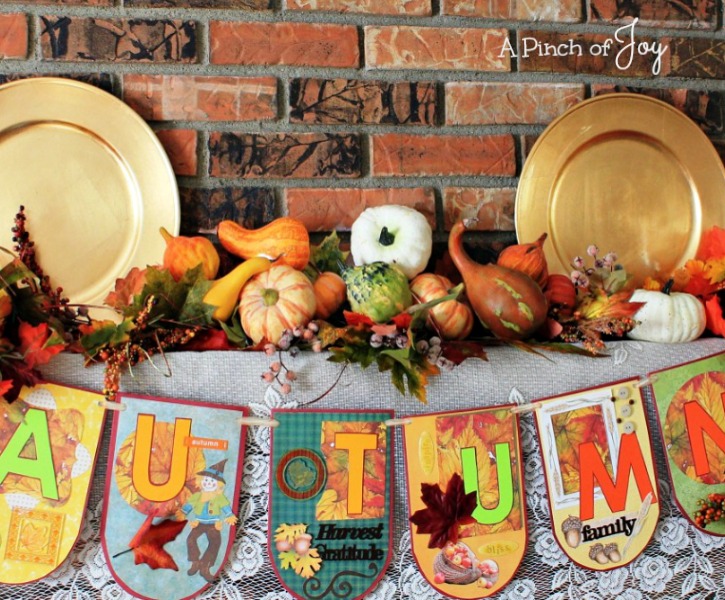 I'm always delighted to find my autumn banner  with the fall decorations.  Hanging it announces  fall is here and that it's a good thing!  We live where forests once reigned and there are still oceans of beautiful color in the fall. There is the somber brown of oak, flaming red, orange and yellow set amongst  deep green in a single maple tree,  brilliant yellows and chartreuse and pale russets of a dozen other varieties.    My favorite is the sweetgum tree that does the whole fall spectrum itself.  Its star shaped leaves first become deep vibrant yellow and orange, then turn red, crimson, burgundy and purple.  My banner reminds me of all these beautiful things – even if  drip and dreariness obscure the particular fall day!
I made the banner two or three years ago.  Sorry — no how to pictures.  But  I'll talk you through the process so you can make some autumn awesomeness for yourself!    I visited my stash of scrapbooking materials and selected yellow, green and orange as my core colors – those that would be repeated and used in varying tones. The pattern on each paper was different, but I did want the individual pennants to look like they "belonged" to the finished banner so I chose  russet edging on all the pennants as the single unifying color.  Then I selected a handful of embellishments that fit my color scheme.
The pennant shape is based on a sheet of 8.5 x 11 sheet of paper, cut in half shortwise. (What?  You'd say lengthwise if it was the other way, wouldn'cha?)  I wanted something different so made the bottom round.  In a creative move (get it done!), I pulled out a bowl that was 4.25 inches in diameter – or thereabouts.  In fact, I probably searched for one that reached exactly from one side  to the other  side.  First, I did this for the russet cardstock that makes the entire finished back and forms the front edging for each pennant.  Then repeated for the second layer, which you can see is made of different scrapbook papers.   In order for the russet edging to show, I cut this second layer one fourth inch shorter on the sides.  On the top, I cut off one half inch and left the round bottom as it was.  I fastened this layer onto the russet cardstock, leaving a quarter inch border all the way around.
To do the letters, I went to Word and chose a simple font and the outline option, working with the size until I found what I liked.  I printed the letters on different colored card stock and cut them out.  Then I layered them on the same russet cardstock as used for the back and cut them out again, just eyeballing a very thin edging.  Added embellishments.  To hang the banner, I punched a hole in each upper corner and threaded a long ribbon behind individual pennant,  leaving at least a yard of ribbon on each end.  A very pleasant afternoon and a banner that I still enjoy!
Our fireplace mantle is just over three inches wide, so even laying a garland across it can be a challenge!  Some deluded builder chose a rough concrete finish for it – or just threw up his hands when the newbie concrete guy turned out the third mistake in a row and said "use it".  Hence, the mantle scarf.  Don't pay attention to any of it –as if that is possible after my whining!     Just look at the banner 😉
I'm so glad you stopped by today!   Be sure to follow A Pinch of Joy so you don't miss a thing! 
Subscribe by email  on the sidebar or follow on Facebook, RSS feed, bloglovin' or twitter   using the links here or the blue buttons on the header!   Follow  my pinterest boards here.    If you found this helpful, please share  by clicking one of the buttons on the bottom of this post.
Save