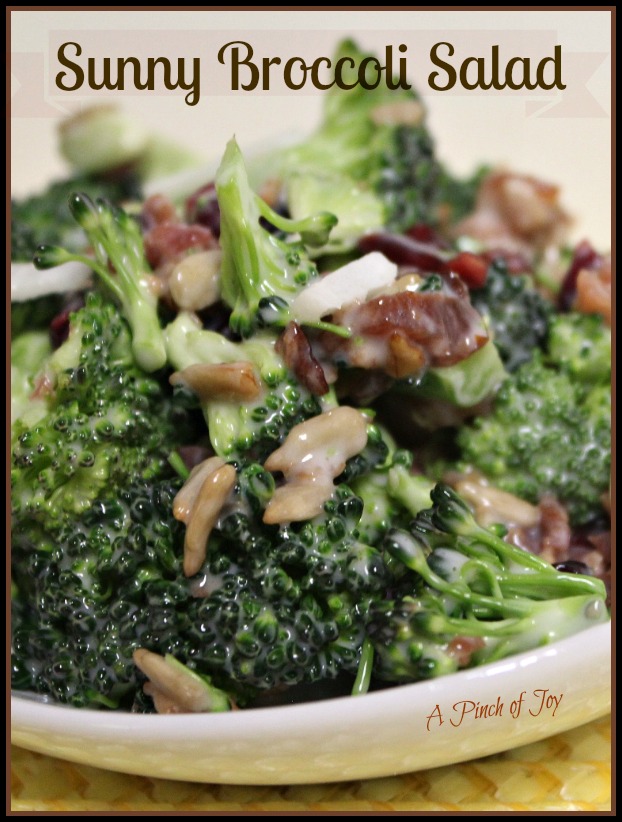 This great recipe for Broccoli Bacon Salad comes from a wonderful cook in Missouri.  I led a group of volunteers, 10 adults and 21 teens,  to Ste. Genevieve, Missouri where we did repair following a flood.  The days were long, hot and sweaty, and everyone worked hard.   Millie had a fantastic meal waiting for us each night when we returned to the church basement where we were staying. When I saw her mixing up this salad one afternoon, I thought "uh-oh, those kids will never eat this."    They did and came back for more.  It is that good!
Millie gave me the Broccoli Salad recipe and a piece of advice.  Approaching her eighth decade of life, her days were amazingly productive.  She told me: slow and steady – don't ever rush.  You never get things done right and you just wear yourself out.  Just know what you need to get done during the day and keep moving that direction.  That motto is as valuable as the broccoli salad!
Confession:  Real bacon, freshly crisped, is definitely best. However, I may think I have a week's worth of menus and ingredients ready to go, then a work schedule changes and it is two weeks before I get back on track with the cooking.  Fuzzy bacon that didn't get used in time – not good.  So I keep pre packaged  bacon on hand for times when life is a scramble,  ready to measure out as needed.  Never any blue fuzz.  Be sure to buy the the real bacon crumbles though – not a substitute.    Another money saving tip:  julienne the thinner parts of the broccoli stem to add to the salad.  The thick parts are tough and coarse, but the smaller parts are tender and tasty. You can also add ¼ cup shredded carrot (for Thanksgiving) or diced red pepper (for Christmas) to create a colorful salad for a special occasion.
Resist the impulse to add more dried fruit than is specified, if you are carb counting.  One cup of broccoli has 6 carbs.  One tablespoon of craisins or golden raisins has almost seven carbs.  Dried fruit is concentrated sugar.  Think of the size of a fresh grape, cranberry or apricot.  The drying process removes moisture so the size is smaller, but the amount of sugar stays pretty much the same.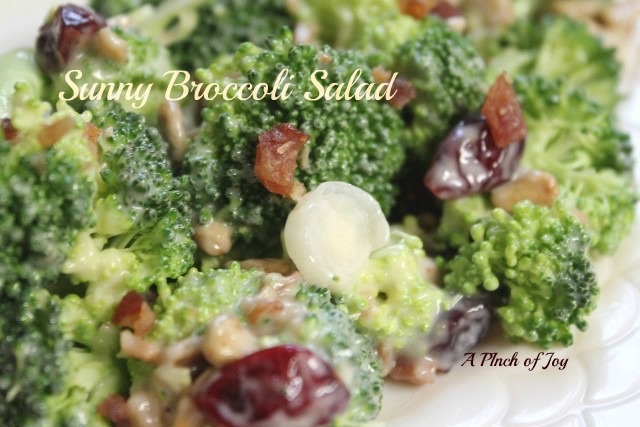 This recipe featured at Full Plate Thursday at Miz Helen's Country Cottage
Sunny Broccoli Salad
Dressed with a perfectly balanced sweet sour dressing, this broccoli salad is a wonderful blend of flavor and texture. Sunflower seeds, dried fruit and a bit of onion add to the symphony.
Ingredients
2 cups fresh broccoli, approx 1 medium head
3 bacon strips, cooked and crumbled
1 green onion, thinly sliced
3 Tablespoons golden raisins or craisins
1 Tablespoon salted sunflower seeds
Dressing
⅓ c olive oil mayonnaise
4 teaspoons sugar
2 teaspoons white vinegar
Instructions
Break florets apart and/ or slice broccoli into small pieces
In a bowl, combine the broccoli, bacon, onion, raisins and sunflower kernels.
In a small bowl, combine the dressing ingredients; stir until smooth.
Pour over broccoli mixture and toss gently.
Cover and refrigerate for at least 2 hours before serving, stirring occasionally.
Notes
Charlene @ A Pinch of Joy
Be sure to follow A Pinch of Joy so you don't miss a thing!  Subscribe by email or RSS, follow on facebook or twitter using the blue buttons on the header!    If you found this helpful, please share on your favorite network by clicking one of the buttons on the bottom of this post.  I'm so glad you stopped by today!
Save
Save
Save