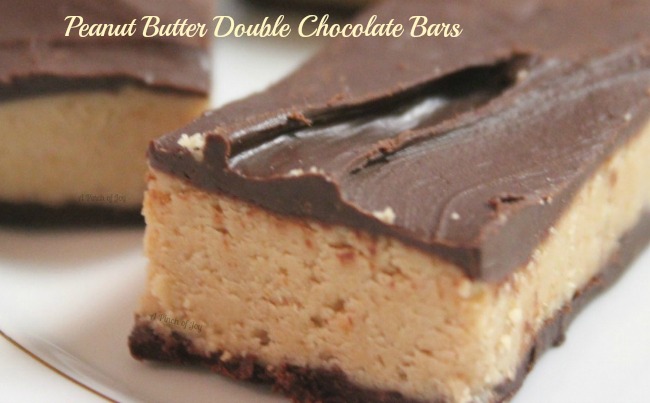 Christmas at Wheel's family farm included candy.   I zeroed in on the Peanut Butter Chocolate Bars Grandma made.   The peanut butter cup knockoff.  Tastes just like the cups in the bright orange wrapper — aka Reese's Peanut Butter Cups! Sweet peanut butter wrapped in chocolate — bliss!
This is a very simple recipe – four ingredients counting the secret and unexpected one.  It's faster to make with a food processor and the microwave, but easily done by hand.  I cut the recipe in half to make 32 pieces in an 8×8 pan instead of the 48 pieces Grandma made in a 9x 13.    
Line the 8×8 pan with non-stick aluminum foil, parchment or wax paper leaving a 3 inch overhang on each end to make "handles" so you can lift the candy out of the pan for slicing without losing a single piece.  The bottom layer of chocolate is optional.  I omit it  unless I am making this for a gift or a party.   The candy is pretty rich so slice it into one inch by 2 inch bars – or even 1 inch squares fancied up in paper candy cups.  I've always thought this would be pretty at Christmas time with a little drizzle of red or green, but it never lasts long enough to try that!    Oh – the secret ingredient?   Graham cracker crumbs give it body and texture.  
This recipe was featured on Kristen's Creations, The Craft Barn,  Chic and Crafty,  Throwback Thursday

Grandma's Peanut Butter Double Chocolate Bars – no bake
Just like the candy in the bright orange wrapper! Chocolate and a fabulous peanut butter mixture that tastes just like Reese Peanut Butter Cups. Quick and easy to make.
Author:
Charlene - A Pinch of Joy
Ingredients
⅔ cup graham cracker crumbs (6 sheets of graham crackers)
⅓ cup butter melted
¾ cup peanut butter
1¾ cups powdered sugar
Chocolate top and bottom:
1½ cups chocolate chips – ¾ cup for each layer, preferably Nestle's or Hershey's
Instructions
Line 8x8 pan with waxed paper
Make chocolate bottom -- optional. Melt ¾ cup chocolate chips in microwave 40 seconds on high and then in 20 second intervals until chips become soft and begin to lose shape. Stir smooth. Spread in waxed paper lined 8 x 8 pan and place in refrigerator to harden. You can do this step ahead of time, even a day or more in advance.
Make graham cracker crumbs, if using whole crackers, by pulsing in food processor until fine OR using rolling pin to crush.
Melt butter 30 seconds in microwave, 10 second bursts until loses shape and add to graham cracker crumbs, Pulse in with two 10 second bursts. OR stir in well.
Add peanut butter and pulse once for 10 seconds OR mix in well.
Add 1 cup powdered sugar and pulse OR stir until well mixed. Add ¾ cup powdered sugar and mix well again. Mixture will form a soft but defined. slightly dry looking ball.
Add peanut butter mixture to 8x8 pan and press down into even layer.
Make chocolate topping. Melt ¾ cup chocolate chips and in microwave 40 seconds on high and then in 20 second intervals until chips become soft and lose their shape. Spread over peanut butter bars.
Refrigerate for 1-2 hours until firm. Let set at room temperature for a few moments before cutting so chocolate will slice without breaking. Cut into 1 x 2 inch bars to place on plate or 1 inch squares, if using paper candy cups.
Nutrition Information
Serving size:
1 inch by 2 inch piece
Please Pin! 
I'm so glad you stopped by today!   Follow A Pinch of Joy using the icons on the teal bar at the top of the page so you don't miss a thing!   I'd love to have your company on this venture!!  Share: if you found this helpful or inspiring please click one of the sharing buttons below!  Your support of A Pinch of Joy is appreciated!
Shared with these awesome link parties here  
Save
Save