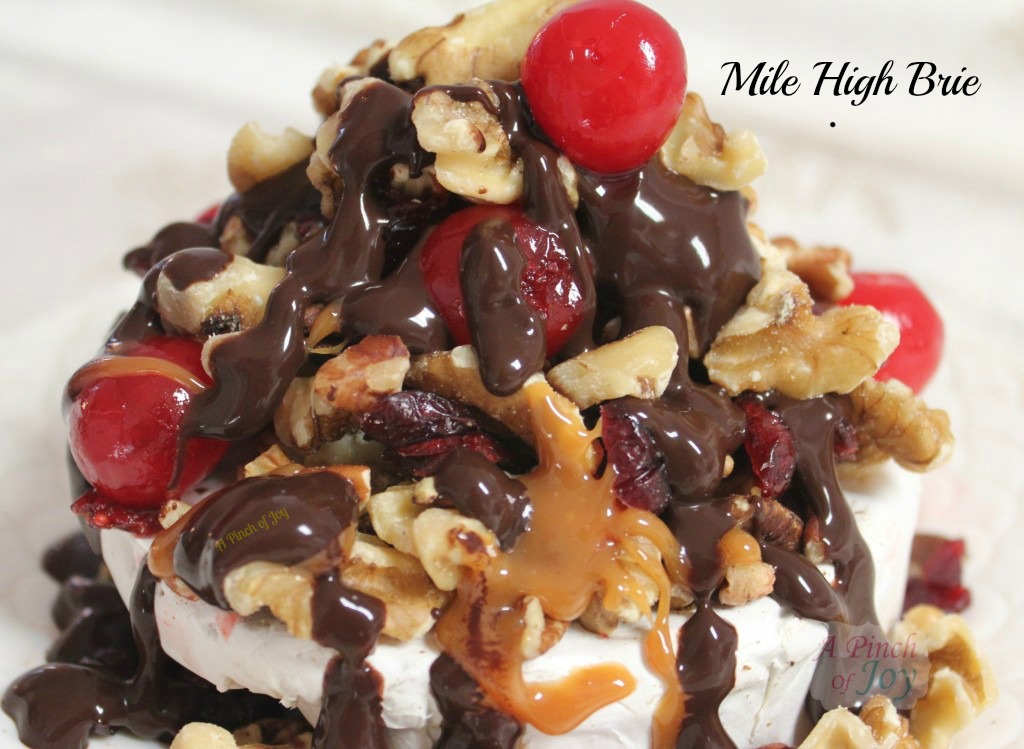 When Apple Valley Sue is invited to events, the hostess requests she bring her spectacular Mile High Brie.  You know those requests mean Yummy captalized!  Apple Valley Sue was sweet enough to send a copy to me — another great recipe that has become a signature dish!

She says: "here is a great appetizer for parties.  It is just 6 ingredients that you throw together  on top of a round of brie with a couple of sauces drizzled on top.  They are especially a hit at Christmas parties — everyone loves it.  I saw Mile High Brie in a showcase last year at one of the grocery stores where they were selling for about $15.  You can make them for a lot less!  Here's the ingredients:
One round of Brie, top rind removed

Walnuts

Red Maraschino cherries (or a mix of red and green for Christmas)


Pecans

Dried cranberries

Slivered chocolate

Caramel sauce

Chocolate sauce
Put the nuts and fruits on top of the brie and drizzle with the sauces. 
Serve with your favorite crackers.  Hope you enjoy!"
The photo above is a baby brie, about 7 ounces,  That makes about 12 servings, perfect for a small group.  It is super spectacular using a larger brie!   The  quantities given are general, because the amount used will vary according to the size of the brie you choose. Cutting the maraschino cherries in half or in quarters, can make it easier to eat — but Sue liked the bright color of the whole cherry.   Since Sue sent it, it has been an annual addition to our New Year's Eve!  Thanks so much, Sue, for sharing! 

MIle High Brie
A spectacular addition to the buffet table or array of appetizers. Quick and easy to make. Serve with your favorite cracker or water biscuit.
Author:
A Pinch of Joy by Charlene Vance
Ingredients
A round of brie -- quantities for remaining ingredients will vary with size of brie chosen. This is what I used for a baby brie
½ cup English walnuts
⅓ cup Maraschino cherries
¼ cup Dried cranberries
⅓ Pecans
2 Tablespoons Chocolate slivers
1 tablespoon Chocolate syrup
1 tablespoon Caramel syrup
Instructions
Remove the top from the round of brie.
Begin piling next five ingredients on top.
When you can't add any more, drizzle with chocolate and caramel syrups.
Serve at room temperature with your favorite mild flavored crackers.
Notes
From A Pinch of Joy
I'm so glad you stopped by today!   Follow A Pinch of Joy using the icons on the teal bar at the top of the page so you don't miss a thing!   I'd love to have your company on this venture!!  Share: if you found this helpful or inspiring please  pin for future reference!  Or share on facebook or twitter by clicking one of the buttons below!  Your support of A Pinch of Joy is appreciated!
Shared with these awesome link parties here