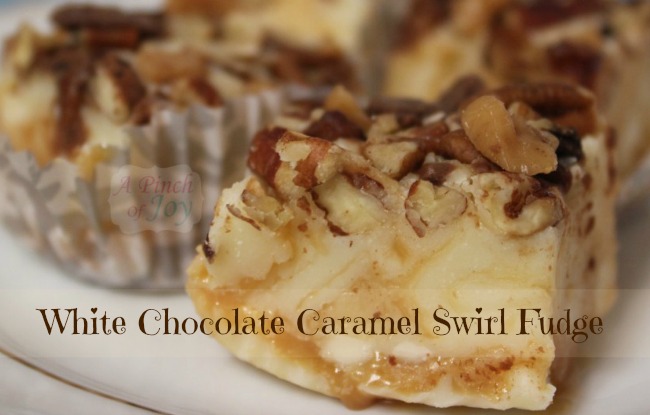 White Chocolate Caramel Swirl Fudge — I needed something to round out a plate of Fabulous Fudge for a party and thought this would be a good contrast to the semi sweet chocolate.  But you know me —quick and easy – so that's the direction I naturally took when I made this recipe.  With a change and a tweak and in the microwave.  And, of course, I have to share . . .
I've found this works best with Gharadelli chips, although Hershey's and Nestle's work well.  For some reason the store brands don't seem to melt evenly — but you might have different results.  Use butter instead of margarine – as any moisture in the margarine will affect how the candy sets up.   It will take at least two 90 second intervals at 50% power for the chips to lose their shape and begin to melt. Be sure to stir thoroughly at the end of each interval.    An 8×8 pan slices into about 64 one inch squares – just about right for such sweet richness!  Serve in candy wrappers as the caramel tends to be sticky.  Yum!
Edited to add:  I made another batch and tried  crushed pretzels for the topping instead of nuts over part of the fudge.  Ooooh, very good!  Loved the crunch and the saltiness in contrast to the sweetness of the white chocolate and caramels.   Wheels likes the pretzels better than the nuts!  I used small pretzels and crushed/broke them into pieces about 1/4 inch.    SnoWhite mentioned in the comments that they had a nut allergy at their house, so thought I would mention this in the post for anyone else who has that problem.
This recipe featured at Nifty Thrifty  and Love, Life, Green.

Don't miss a thing!  Subscribe to get new posts by email,  follow on facebook, twitter or by RSS.  If you see something you like, use the Pin button on the top or one of those cute little share buttons down below!.  I'd love to have you join and follow along!

Linking to some of the awesome parties  here