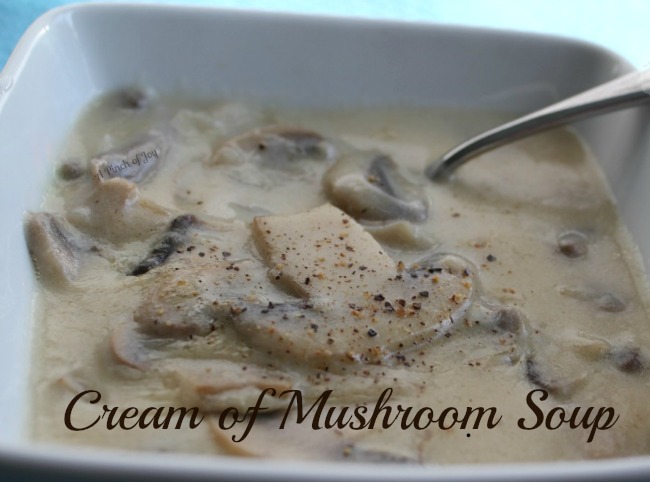 Creamy Mushroom Soup makes a simple, yet hearty meal.   Food of the Pharoahs, strength for Greek warriors and  miracle healer for the ancient Chinese, mushrooms have quite a history. Although often considered a vegetable, they are not a plant at all. They have no roots or leaves, no flowers or seeds.  They do not need sunlight or soil, instead growing on decaying organic matter in the dark.  The ancients were so amazed by this unusual and mysterious food,  that they attributed super powers to mushrooms.
Interestingly enough, modern day science has verified and explained what the ancients knew about the health benefits of mushrooms.  The Pharoahs thought they would achieve immortality by eating mushrooms.  Don't think that theory proved out,  but we can certainly enjoy the very real health benefits of mushrooms!   They are low in calories, have very little sodium and a significant amount of fiber.  A serving of mushrooms provides:
significant amount of several B vitamins, important to kickstarting metabolism
excellent source of potassium, which helps maintain a healthy blood pressure
copper and other nutrients for maintaining and improving cardio health
Selenium and iron, which support our immune systems
anti-inflammatory and anti-oxidative factors that help combat cancers
I usually buy sliced mushrooms so the only time involved is chopping onions, stirring while sautéing onions and mushrooms and then cooking.  It makes four servings, but Wheels and I make it all disappear in two big servings.  (Bytes mutters "fungus" and finds something else – more for us!)   In a deep skillet or dutch oven, sauté the onions.  You can add a bit of garlic here, to make a more full bodied taste.  Add the mushrooms and when they begin to turn a light brown and release their moisture to make a sort of gravy.   I push them all to the side and add the flour a bit at a time to make a roux,  incorporating the mushroom "gravy" and any melted butter left.  If the mushrooms don't have at least a spoonful or two of gravy or the butter has been absorbed, add another tablespoonful of butter or some broth to make the roux.  Have your chicken broth open so as soon as the roux is thick, you can begin to whisk in the broth.  I have made this with low fat milk because that's what I had on hand instead of half and half.  A little less rich in flavor, but still good.
Now – anyone have a foolproof way to chop onions?  I'm still in tears —-.

Cream of Mushroom Soup
Savory, creamy mushroom soup -- soo good! Quick and easy -- ready to eat in about 30 minutes.
Author:
Charlene - A Pinch of Joy
Ingredients
¼ cup onions, chopped
2 tablespoons of butter
8 ounces fresh mushrooms, sliced (equals 3 cups)
4 tablespoons flour
2 cans of chicken broth, 14.5 ounces each
1 cup half and half (milk can be substituted)
½ teaspoon salt
Pepper to taste
Garlic or garlic powder to taste – optional
Instructions
Melt butter in deep skillet or dutch oven and begin to sauté chopped onions. Add garlic to taste, if desired.
Add sliced mushrooms and sauté until color turns light brown and moisture appears.
Push ingredients to one side. Push moisture / melted butter to the other side and add flour a bit at a time to make roux, stirring briskly to incorporate ingredients smoothly.
Whisk in chicken broth, half a can or less at a time, until all is mixed.
Boil for two minutes. Mixture should begin to thicken.
Add salt, pepper if desired, and half and half. Then simmer for 15 minutes.
Makes four servings.
This recipe mentioned at
Petite Hermine
,  The Lady Behind the Curtain,
Welcome to A Pinch of Joy!  I'm so glad you stopped by today! Take a minute to look around.   Follow A Pinch of Joy using the icons on the teal bar at the top of the page so you don't miss a thing!   I'd love to have your company on this venture!!  Share: if you found this helpful or inspiring please click one of the sharing buttons below!  Your support of A Pinch of Joy is appreciated!
Shared with these awesome link parties here  
Save
Save