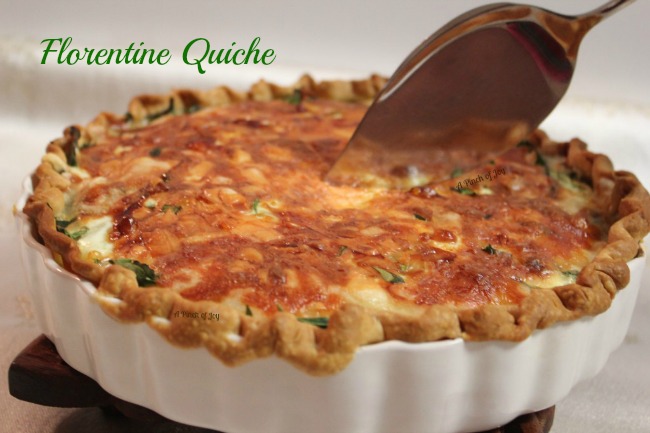 Quiche is one of those really cool, super versatile formula recipes.  Start with a pie crust in 9 inch shallow pan.  Whisk the egg and milk mixture together with seasonings until just blended.  Keep the quantities of remaining ingredients according to the formula above — but the rest is up to you, what you have on hand and how brave you are! See end of post for alternatives.   I tend to stick with bacon or ham for the meat, spinach for the vegetable and Swiss cheese because 1) this is a tasty way to eat cooked spinach for all its healthy benefits and 2) it's a  good flavor combination!   Bytes and his brother figured out early on that "Florentine" is "code"  for spinach.  🙂
If you like a firm crust, prepare it and bake for 12 minutes, then let it cool while preparing filling.   OR you can grease the pan and omit the crust entirely for a low carb, gluten free main dish.   To assemble quiche, spread meat evenly on crust. Next add vegetables, chopped or cut into bite sized pieces.  Add a sharp grated cheese.   Tonight I used a mix of swiss, shredded (not grated) parmesean and provolone because "somebody" used half the Swiss (in  quesadillas!) before I got to it.  I like to "toss" the spinach and and most of the cheese together in the crust because it makes a smoother overall texture.   The fat in the dairy products are necessary to the firmness of the finished quiche.  Using fat free substitutes will make a watery quiche, although whole milk can be substituted if necessary for the half and half.
The first few times I made quiche, I had a hard time getting it into the oven without spilling.  Solution: place the quiche minus liquid on a baking sheet on top of the stove.  Carefully and evenly pour the liquid on the quiche and slide baking sheet and all into the oven.    Quiche bakes at a hotter temp than many other dishes – 375 degrees.  It's done when a table knife inserted in the middle comes out clean – about 35-40 minutes.  It will continue to cook after you take it out of the oven, so let it set about 10 minutes before slicing and serving.
Alternative suggestions:
Precooked meat:  chicken, turkey, ground beef, sausage, or seafood as shrimp, lobster, crab
Vegetable: Cauliflower, zucchini chunks and/or broccoli, microwave three minutes to start the cooking process.  Onions, mushrooms, bell peppers, slice thinly and sauté briefly before adding..
Combination:  Any vegetables and/or meat up to two cups total.
Cheese: Swiss, guyere, Colby jack, cheddar, parmesan, provolone or any combination
Seasonings: Nutmeg binds and "sweetens" the other flavors, but you can add or substitute other seasonings to taste as: dill, thyme, rosemary, garlic or onion powder.
It was a joy to have this recipe mentioned at Petite Hermine!
Florentine Quiche
Ingredients
4 eggs
1 ½ cup half and half or whole milk
½ teaspoon salt
¼ teaspoon pepper
Dash of nutmeg - optional
¼ cup ham diced or cooked, crisped bacon, chopped
2 cups fresh spinach, chopped and loosely packed
1½ cup shredded cheese – Swiss is traditional
1 9 inch pie crust round – refrigerated or from scratch
Instructions
Place pie crust in 9 inch shallow pan. Bake for 12 minutes at 350. While pie crust is baking, prepare remaining ingredients.
Whisk milk, eggs and seasonings until just mixed.
Chop ham or bacon and spinach
Place meat in the bottom of the pie crust.
Add spinach and cheese.
Pour milk and egg mixture over the ingredients in the pie crust.
Bake at 375. Check for doneness at 35 minutes, bake additional 5 minutes if needed. Quiche is done when a table knife inserted in the middle, comes out clean. Do not overbake.
Let set for 10 minutes. Quiche will continue to cook as it cools.
Can serve warm or cool completely.
I'm so glad you stopped by today!   Be sure to follow A Pinch of Joy so you don't miss a thing!  I'd love to have your company on this venture!!    Subscribe:  Facebook /  RSS feed  / bloglovin' /   twitter // pinterest boards.   Share: if you found this helpful or inspiring please click one of the buttons below!  Your support of A Pinch of Joy is appreciated!
Linking up to these awesome parties here