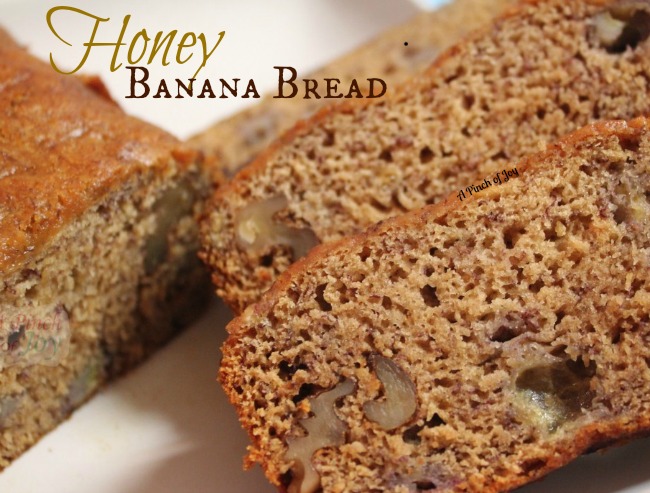 Honey Banana Bread landed on the menu unexpectedly.  Wheels set the quart jar of thick amber liquid on the kitchen counter.   Organic honey sold by the grandfather of a fellow employee.  A quart jar!!!!  That is more than we've used in the last five years total!!!    A quick taste showed that it had a pleasant flavor, but not at all like the honey in the little squeezy bear.  Well – love me a challenge (and Wheels is really good at bringing them on!)    I hit the search engines.
According to honey.com, the website of the National Honey Board, "The 60,000 or so bees in a beehive may collectively travel as much as 55,000 miles and visit more than two million flowers to gather enough nectar to make just a pound of honey!   The color and flavor of honey differ depending on the bees' nectar source. . .".   The darker the honey, the more "robust" the flavor.  Marveling, at all the time and energy that went into making a quart of honey, I was briefly sidetracked by the freebies on the site.     They also have recipes, and one of them, inspired me to narrow my search down to banana bread.  An inspiration furthered fueled by the slightly darkened bananas in the dining room fruit bowl.
Banana bread is a particularly personal recipe.  And I didn't have the whole wheat flour on hand that most recipes seem to think went with honey. Honey has 17 carbs per tablespoon, 5 more than a tablespoon of sugar. But it is also sweeter, meaning less is needed so the end result of choosing one vs the other is about the same. Some recipes called for both!   Finally— yep – I took a bit from this recipe and a bit from that and mooshed them together!  And the results were pretty tasty, if I do say so myself.   But most of the credit goes to the honey flavor.
A couple of cautionary notes about banana bread:  1) Turn the oven on before making the recipe so it is preheated.  I flake over this step on a lot of recipes, but it is important here.  Grease your pans right after you turn the oven on.  Getting the bread in the hot oven right away is important.  2)  Mix the dry ingredients together before stirring them into the wet ingredients, so they are evenly distributed.  You can do this by dumping them all in a pile on top of the wet ingredients and gently stirring them together before pulling in the wet ingredients.  OR by mixing them together in another bowl before adding.  These two notes are for the same reason.  The leavening agent – baking soda- begins to work as soon as it gets wet in this recipe.  You want the result to make the bread light as it bakes. Wasting the leavening power as the bread sets on the counter waiting for you to preheat, grease or stir it  away makes a heavy, doughy product.
I also know most recipes say to bake this size recipe in a single 9×5 greased pan for 50-65 minutes. For me, most of the time this results in underdone loaves and big slices that I usually cut in half.   I prefer smaller slices and a shorter baking time.  With less batter in the pan, I also think the loaf bakes more evenly.  If you want the bigger slice – be my guest!  And nuts are another banana bread particular  – at least in our house.  Bytes will eat walnuts from the bag, but putting those same nuts in a recipe is a guarantee it will never cross his lips and sometimes, that's a good thing.  Do you know how much a big guy can inhale in a day??  Sometimes a few well placed nuts is a survival strategy.  I digress – some people like nuts, some don't.  I had about a half cup of toasted walnuts that I tossed in one half of the dough – yum.
Eat plain, with a bit of butter or whipped cream cheese.  Two loaves will yield about 36 half inch thick slices about 11 carbs each.
This recipe was featured at Kristen's Creations and mentioned at Petite Hermine.   Thank you!

Honey Banana Bread
Ingredients
2 cups flour
1 teaspoon baking soda
¼ teaspoon salt
1 teaspoon cinnamon
½ cup applesauce, sugar free or no sugar added
¾ cup honey
2 eggs
3 ripe / overripe bananas, mashed
Instructions
Preheat oven and lightly grease two 9x5 inch loaf pans.
Mix together applesauce and honey.
Mash bananas. Overripe bananas work well for this purpose.
Add bananas and eggs to applesauce and honey mixture and mix until well blended.
Add flour, baking soda, cinnamon and salt at the same time – do NOT stir ingredients in one at a time. Mix just until dry ingredients are moistened.
Divide batter evenly between the two prepared pans.
Bake at 350 degrees for 30-40 minutes, until a toothpick inserted into the center of the loaf comes out clean.
Let bread cool 5-10 minutes in the pan and then turn out onto a wire rack.
Please Pin! 
Welcome to a Pinch of Joy!  I hope you'll take a few minutes to look around.    Follow A Pinch of Joy using the icons on the teal bar at the top of the page so you don't miss a thing!   I'd love to have your company on this venture!!  Share: if you found this helpful or inspiring please click one of the sharing buttons below!  Your support of A Pinch of Joy is appreciated!
Shared with these awesome link parties here