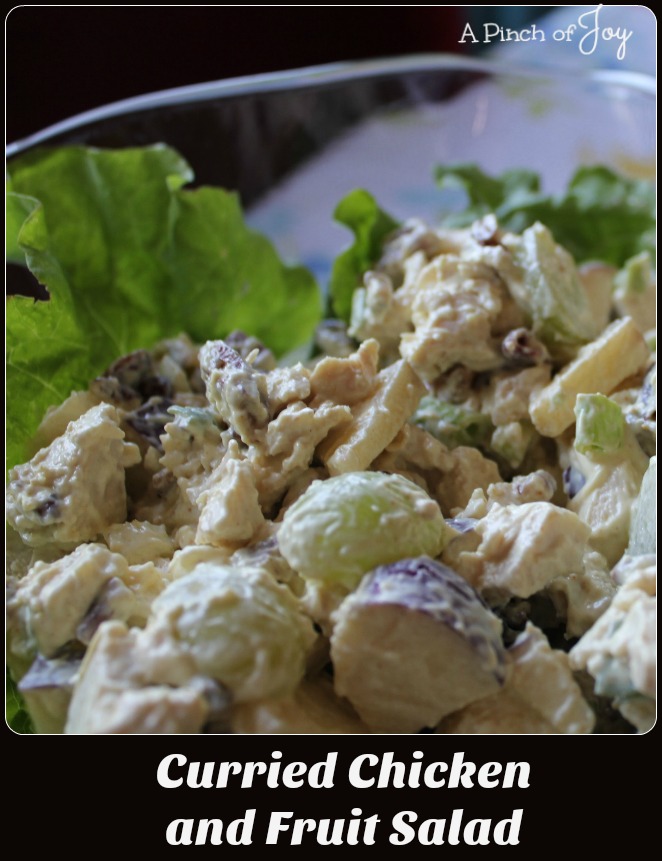 One of our long time favorites and a make ahead main dish  — Curried Chicken and Fruit Salad.  The weather has been summery – astounding for March!  And we've taken advantage of it, with lots of time in the garden.    Meals when we are concentrating on a project are usually do ahead.  Last night I reached back in the archives from the very first days of A Pinch of Joy and came up with this to make ahead and enjoy after a very busy day.
Curried Chicken and Fruit Salad is a festive, flavorful salad  that is so versatile. It is not spicy, but is uniquely and wonderfully flavored.  It is the first thing I think of when I need something for a luncheon because it can be served so many different ways. Great by itself, it also goes well with croissants or any delicately flavored quick bread.  It works well for a Christmas brunch or late dinner.   With crackers or toasted rounds, it makes a delightful appetizer.  We love it for cool summer suppers with a salad and corn on the cob or a light dessert. Last night I served it with crusty Italian bread on the side, a huge tossed salad and ice cream for dessert.  Great change from the wintry fare we would usually be eating this time of year!
Did you know that curry is a combination of spices?  Families in southern Asia have their own "secret" blends that can contain up to 20 different herbs and spices, depending on the region and traditions.  Many blends include cumin, mustard, chili powder, cinnamon, coriander, and tumeric.  It is the tumeric that gives curry the signature color. The chili powder gives heat according to the quantity used.  Americans often associate curry with Indian cuisine.  The only association with India is that the British army adopted a version of  for use in rations during British colonial days in India.  The British are responsible for the Western world's version of curry powder and the dishes prepared with it, while people from India do not use the term at all.   The word curry most likely comes from the Tamil region of India, where the word "kari" refers to a sauce, cooked vegetables or meat.

Fruit and Curry Chicken Salad
A versatile and delicious chicken salad that can star at a ladies lunch or make a cool dinner salad on a hot day! Delicately flavored and laden with fruit.
Author:
Charlene - A Pinch of Joy
Ingredients
2 cups, cooked and diced chicken breast (3 large or 4 medium breasts)
1 stalk of celery, cut
4 green onions, chopped
1 apple, cored and diced (preferably sweet as Delicious or Gala)
⅓ cup golden raisins or original craisins
⅓ cup seedless green or purple grapes, halved
½ cup pecan pieces
½ tsp curry powder
¾ cup mayonnaise
Pepper to taste
Instructions
Mix together mayonnaise and curry.
Add all other ingredients, except the chicken, and stir well.
Add chicken. Folding in gently will keep it chunky for a stand alone dish. Stirring vigorously will break chunks apart for a more uniform texture to serve on a croissant or other bread.
Chill several hours, overnight is even better, to develop the full fruity flavor.
carbs, 15 grams protein per serving
Notes
.Nutritional values are estimates only.
Nutrition Information
Serving size:
½ cup each
Calories:
220 calories
Carbohydrates:
13 grams,
Protein:
13 grams,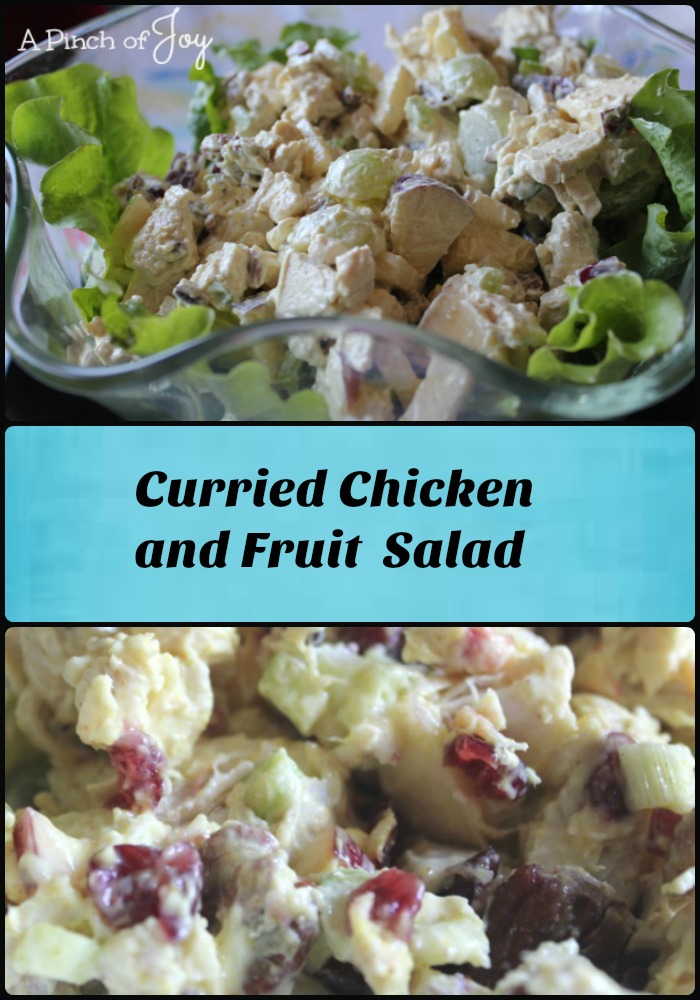 Please Pin! 
I'm so glad you stopped by today!   Follow A Pinch of Joy using the icons on the teal bar at the top of the page so you don't miss a thing!   I'd love to have your company on this venture!!  Share: if you found this helpful or inspiring please click one of the sharing buttons below!  Your support of A Pinch of Joy is appreciated!
Shared with these awesome link parties here  
Save
Save
Save
Save
Save
Save
Save
Save
Save
Save
Save
Save