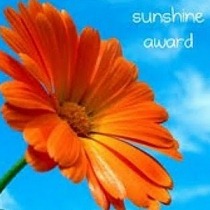 I was so surprised recently to find a comment from Kathy at Cornerstone Confessions telling me she was bestowing the Sunshine Award on A Pinch of Joy! I'm excited and delighted – anything that involves sunshine is a good thing!!! Coming from a fellow blogger makes it all the better!
Kathy wrote: A few weeks ago I received a sweet comment and personal invitation from Charlene to participate in her first ever Busy Monday Link Party. Her sincere comments and enjoyable blog are definite pluses in my book.
Kathy has a great blog – fun to visit and fun to read.  She says: "I'm just an amateur blogger who is trying to share a little of what she's learning along the way, both to save others the time it took for me to search for the "how to" as well as so I don't forget it later!"   Good reason to blog about any topic!   She deserves positive comments! Visit and leave her one!
As a recipient of this delightful award, I have a few rules to follow:
  Include the Sunshine Award logo in a post or on your blog.
Answer 10 questions about yourself.
Nominate 10 other fabulous bloggers and introduce them.
Link your nominees to the post and comment on their blogs, letting them know they have been nominated.
 Share the love and link the person who nominated you.
Ten Sunshine Award Questions (and Answers):
1.  Favorite Color: I love color! My favorite job was designer for a metropolitan parks and recreation department where I got to choose color schemes for park and recreation buildings. I got paid to play with the color pack all day! Right now turquoise is my very favorite – on my blog, in my wardrobe and in my house!
2.  Favorite Animal: I have to say cat or the resident feline will ignore me all day! Which she pretty much does anyway, unless the food bowl is empty.
3. Favorite Number: Three is perfection.
4. Favorite Non-alcoholic Drink: Tea – Chai Latte or Rosy tea are usually in my desk mug.
5. Prefer Facebook or Twitter: Facebook
6. My Passion: To make a difference in my world
7. Prefer getting or giving presents: It used to be "giving". But, thanks to some wonderfully kind and thoughtful women in my life, I am learning to accept gifts and to feel that I am worthy
8. Favorite pattern: Pattern is like color – I love it all, in its own time and place.
9.  Favorite Day of the Week: Wheel's days off – subject to change from year to year.
10. Favorite Flower: My father grew roses so I am a little partial to them, but anything that blooms will find a place in my garden. The neighbors just removed a line of trees along our mutual fence. I am looking forward to planting something beside shade lovers!
Ten Favorite Bloggers:
Miz Helen's County Cottage  Miz Helen has a serene Country Cottage with recipes, garden tips,  reflections and Full Plate Thursday, one of the first link ups to which I posted. Miz Helen is the most gracious hostess and is so kind and appreciative of each link that I look forward to seeing her name in the comment box.
Kristen's Creations  Kristen strikes the designer in me. I love the clean look of the blog, her designs for her etsy shop, the ideas she's used in her lovely home. Always feel refreshed after a visit there!
Kitchen Fun with My 3 Sons   Jill has three adorable helpers in her kitchen and the things they come up with are so creative and so fun! Cute blog, too!
My 1929 Charmer refers to Cathy's "charmer" house built in 1929 from plans and materials sold through Sears catalog. She blogs about their adventures in making the charmer into the home of their dreams. with recipes and other fun along the way. (Cathy doesn't know it but our first house was also a Sears kit and I can soooo relate to the "joys" of updating.)
Miss Janice writes about the social graces – southern style. When I want a total change of pace, I find myself clicking over to Miss Janice's. It's always enjoyable and I frequently learn something new!
Preschool Powol Packets.  Carla is homeschooling mom who also has a small home daycare. She says "I love to teach, create fun and exciting resources, and share the educational journey that we get to live!" Her passion comes through and I love to see the great ideas she posts.
Homeschool Creations  Jolanathe is  homeschooling mom with great  enthusiasm and great ideas  adaptable to volunteer teacher or mentor or  learning time for you own little ones outside school, for quiet time or just for fun!
Tea Rose Home  I found Sachiko through a link party and have come to appreciate her gentle, serene blog about life, quilting and sewing, crafting and creative endeavors.
Easy Digital Scrapbooking and Crafts   I love scrapbooking. And the design of this cheery blog always lifts my spirits, not to mention the fun ideas and resources shared here!
10. It was so hard to narrow this down to just ten.    My list could go on and on.    So this last one goes to all the bloggers who share their heart, their passion and unique knowledge with the rest of us!
And to all my wonderful readers — thank you for taking time to stop by,  read my tidbits, offer comments and share the journey.  You are truly wonderful sunshine in my life.  Thank you, Kathy.