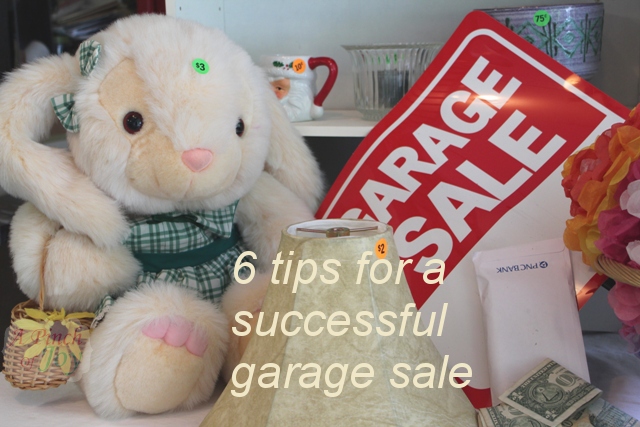 Last weekend was our neighborhood's annual garage sale.  Great motivation to clean closets, cupboards, basement and garage!  We usually come out pretty well for the time invested – if the weather cooperates.  I have a fun time with the folks that come by.  Dude rolls up and into the garage on his huge motorcycle, asks if we have any cameras and then wheels back down the drive.  Swear it was Wheel's doctor (who is a biker), but under a helmet who knows???  The little girl that really, really wanted the big white teddy bear for her "family" of bears.  I told her it was half price and then when she was 36 cents short said I forgot about the Saturday discount.  She was ecstatic.  The friend not seen for several months who strolls up the driveway. Neighbors coming by to check out the competition.  Scores of strangers – and a few just plain strange!
Here's six tips I've learned that will  make your garage sale easier and more fun!
1.  Have your sale when others in your area do. More sales means more traffic.  It also means advertising at less cost than you'd pay yourself.  Don't forget Craigslist and community bulletin boards. If you have large items, such as furniture, tell the organizer so they can be mentioned in the ads.   (Ask around to see what else sells in your area. Clothes, other than baby and toddler clothes, do not sell well where we live, so are generally a waste of time and space.)
2.  Post clear directional signs.  Neighborhoods sometimes limit size of signs and most allow them to be up only for the duration of the sale.  Still a simple sign that says "sale" with an arrow pointing in the correct direction on the corner is effective.  Here you can find a sign to print on  brightly colored card stock.  Fill in the letters with black or contrasting color, and add an arrow to the appropriate end of the bottom line that you've filled in solid. Insert in a plastic sleeve to protect from the weather.  Tape to sign posts, mailbox or stake.
3.  Price everything.  Preprinted stickers from the dollar store work great and save time. If you have a number of like items, such as books, a sign announcing the price per item will suffice.  Do not waste your time or your customer's time by deciding prices as you go. (Serious buyers will leave!) Label items as needed – indicate pairs, that electronics work, manuals included – anything that the buyer needs to know to save  time and interruptions.  Decide ahead of time if you will negotiate.  The prevailing  policy of most sellers in our area is to price fairly and stick to the price.  Personally, I only negotiate, as a buyer or seller,  if things are slow and few others are present and then only near the end of the sale.  I have gotten, and given, great deals that way.
4.  Count on the first two customers to give you twenty dollar bills for a dollar purchase and plan your change accordingly. Have at least $20 in ones and $5 in quarters, in addition to  several five and ten dollar bills and a few dimes to begin the sale.  Keep the cash on your person at all times!   As you accumulate cash, take it into the house at a quiet moment and put it in a safe place.
5.  Display your merchandise nicely.  Not fancy– just clean, and organized so everything is visible and accessible.  I also cover open shelves and immovable objects with sheets or plastic tablecloths.  Looks nicer and stops bored guys from suddenly thinking they have enough charm to flirt some ignorant wifey into selling her hubby's pricey new toolbox for nothing.  I also cover all sales tables to hide saw horses and makeshift supports under the top.  Letting the cover drop to the ground in front makes a place to shove storage boxes and other things out of sight.
6.  Donate.  After the sale, take your unwanted items to a charity dropbox. Or,  many charities will also make arrangements to pick up at your house following the sale.  If you itemize your federal taxes, check under "Freebies" button above for a list of the value of  items to help you record your donation.  Ask for a receipt from the charity.  Some items I'm not ready to donate yet.  I pack them into one large tub – usually about half full —  and set it inside the crawlspace. (We have a three quarter basement with crawlspace under the kitchen and dining room.)  As the year goes on, I continue to set unwanted items in that corner.  Whether or not we participate in the next annual sale depends on the size of the pile.
Good luck on your next sale.  May you have at least one customer who comes in, declares she loves to shop where people share the same interests and proceeds to fill bag after bag after bag and leaves you smiling and holding a fistful of green!   Really happened!
The best thing you gain by having a garage sale, is more space.  Bytes
I'm so glad you stopped by today!   Be sure to follow A Pinch of Joy so you don't miss a thing! I'd love to have you along on this journey.  Subscribe by email  on the sidebar  or follow on Facebook, RSS feed, bloglovin'  twitter  or   pinterest    If you found this helpful or inspiring please share below!

Save
Save