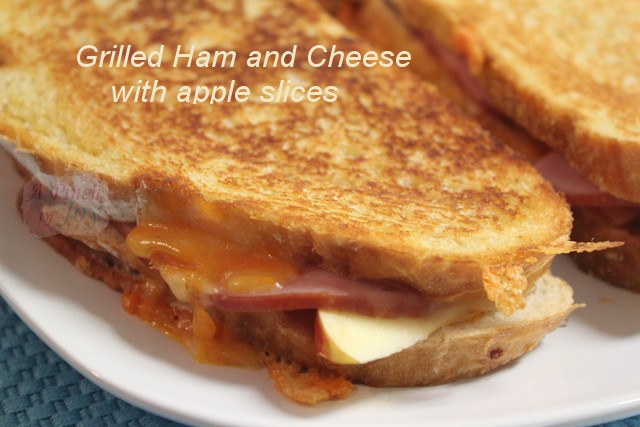 Grilled Ham Cheese with apples on sourdough bread.  Several women from the neighborhood occasionally get together  to try new places to eat,  maybe shop a little and, always, talk a lot.  I was intrigued by this combination at a new to us restaurant, ordered it and have been making it at home ever since!
Sourdough bread is a good bread for those who are diabetic. Studies have shown that  it does not raise blood glucose in the way that other breads will.  Scientists believe that the fermentation process used to make the bread rise produces lactic acid and reduces availability of simple carbohydrates, keeping blood sugars stable. The scale measuring the  rate at which a food makes blood sugar rise is called the glycemic index.  Anything that is rated 55 or less is considered to have a low glycemic index.  Sourdough rates 54.  The glycemic index is used alone for weight loss or blood sugar control or in combination with carb counting.  At our house, we rely mostly on carb counting and use basic knowledge of the glycemic index to make an informed choice that allows for foods that might not be eaten otherwise.  Choosing bread is one of those situations.   Pick an artisan sourdough as that is more likely to use sourdough starter and the fermentation process.
So —- good bread, a nice yellow cheese and a slice of thick ham (or several slices deli cut).  The quantity of the filling depends on the size of the bread.  For the one shown in the picture, one and a half slices of boneless ham and 2 slices cheese were needed to fill the large slices of bread.   Sliced in half, the finished sandwich makes a filling lunch for one.   I go for the sweeter, firm textured apples, like Gala and use just one for 3-4 servings. If you slice it too thickly, the apple will not stay in place.  Thinner slices allow it to cook slightly and to be held in place by the cheese.
Serve with a light soup, salad or let it be the solo star.  It's a hearty sandwich that will keep you going!

Grilled Ham and Cheese Sandwich with apple
Generous helping of ham and cheese, thin slices of apple, grilled between slices of sourdough bread. Great for lunch! Or dinner!
Author:
Charlene - A Pinch of Joy
Ingredients
4 slices sourdough bread, sliced
2-3 slices ham
2-4 slices cheese such as cheddar, Colby, Colby Jack
1 apple, unpeeled, sliced thin
Softened butter or margarine
Instructions
Wash and thinly slice one apple. Set aside.
Place large skillet on medium heat.
Butter one slice of bread and place buttered side down in skillet. Repeat with another slice of bread.
Place a slice of ham on each piece of bread. Use additional slice or part of slice to cover bread.
Lay apple slices across each sandwich, on top of ham, covering it well.
Top each sandwich with cheese slices so that each sandwich is fully covered.
Butter the remaining two pieces of bread, placing one atop each sandwich with butter side up.
Adjust heat, as needed to ensure even browning. When bottom bread is golden brown, carefully turn sandwich.
Sandwich is done when the second side is golden brown and cheese is melted.
Please Pin! 
I'm so glad you stopped by today!   Follow A Pinch of Joy using the icons on the teal bar at the top of the page so you don't miss a thing!   I'd love to have your company on this venture!!  Share: if you found this helpful or inspiring please click one of the sharing buttons below!  Your support of A Pinch of Joy is appreciated!
Shared with these awesome link parties here