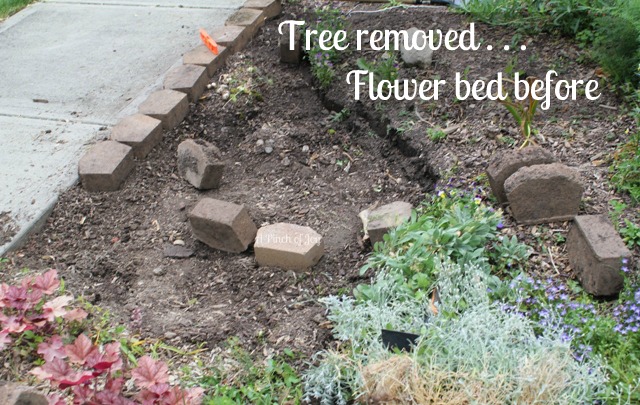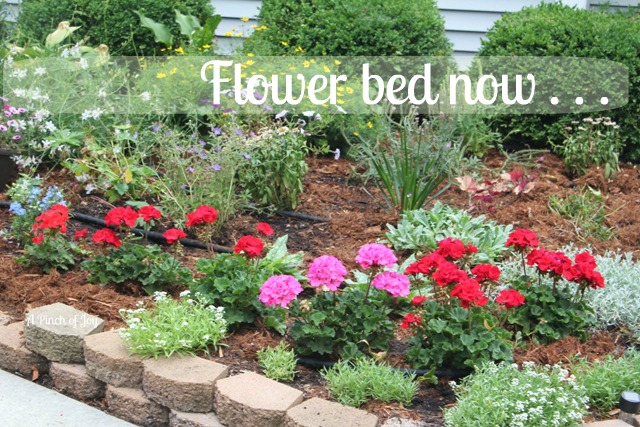 Last fall, we had an ash tree removed between the house and the front door walk.   The retaining wall went behind and around the now gone tree, so I moved it forward next to the sidewalk.  Then we added dirt, more dirt and still more. . . ahem . . . fine soil.  (When we totalled  the cost,  it went from dirt to finest soil!)  Added plants. . . mostly collected from the markdown shelves at nearby nurseries.   Mulched — not my favorite kind, but it helps retain moisture.  That's an important feature because it turned ninety the minute I put the last plant in the ground and is supposed to stay there till next week!   Still finessing the layout of the drip hose, so when that is done I'll put down another layer of pine nugget mulch. It's darker and easier to handle and makes a great background for flowers.
The idea is a full,  lush English cottagey type garden in the summer and boxwood foundation plantings  in the winter . . .  stay tuned!
Have a joyfilled weekend!

Don't miss a thing!  Follow with email, on facebook, twitter or RSS.  I would love it if you gave anything you find helpful or interesting on these pages a Stumble, Tweet, Pin, or  Like. Your support of A Pinch of Joy is greatly appreciated!