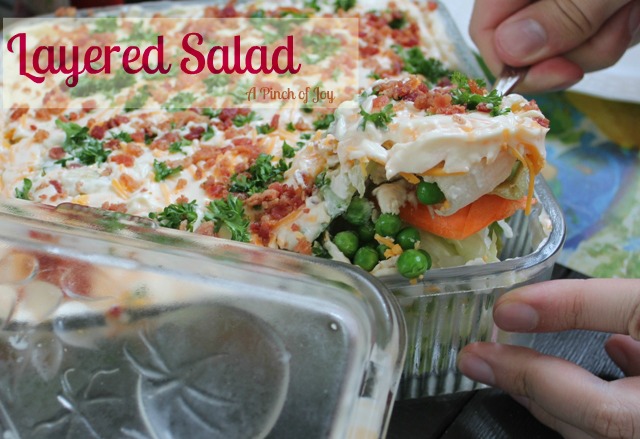 Suddenly I spied the perfect container for Layered Salad.  I didn't even know it when I first saw it!  A glass refrigerator dish was setting forlornly on a wobbly table in the basement.  The masking tape tag said it could be mine for 25 cents.  I wandered off through the rest of the musty basement looking over tattered Christmas decorations, worn tools, chairs that had seen better days, a scale.  And then I came back to the table with the square, lidded dish, almost hidden with office supplies and gift wrappings. Nice.  But.   I went off to the garage full of gardening equipment, upstairs with furniture being moved out, linens heaved around as people searched for the right size, a sad wheelchair in a closet.
Estate sales have their own stories and so did this one. It wasn't all sad.  There were cheery colors in the kitchen,  a comfortable sun room and other reminders of a life full of friends and family.  "They" had apparently taken what they wanted and left the rest for strangers to find their own treasures.  Like the covered refrigerator dish in the basement.    I had promised myself I would not buy anything  that did not have a use or a place in my home – now.  Not someday. Not on the chance  I'd find a use for it later.  Not even if it only cost a quarter.  It could only be bought if I had a good use for it.  I took a turn around the dining room.  And then it hit me.  I knew exactly what it would do in my house.  And I zipped downstairs, grabbed that beautiful refrigerator dish and brought it home.  A trip through the dishwasher and it sparkled.  The perfect container for Layered Salad.  Now.
I could tell it was vintage.  Curious, I did a search.  Its lid is  distinctive so it was easy to find.  It was made by the Federal Glass Company in the 1930's and 1940's, into the Fifties.  It could be 80 years old.  And not a chip on it.  My quarter dish with lid is worth between $30 and $50.  Interesting.  Even more interesting would be the stories this dish could tell!  It may have belonged to the owner's mother during the Depression. Or a favorite aunt who bought it for her hope chest before her hopes were shattered by war in the Forties.   Or was it a wedding gift when the owner was married in the Fifties?  Did they use it everyday?  Or was it "saved" because it was special.  Why wasn't it in the kitchen with the rest of the dishes and cookware?   The dish remains mute on its past.  A lady of mystery and charm.
I can tell you what it does now, though.  It is the perfect container for a layered salad.  Just the right depth so you can lift out a serving with all its layers intact. Make the salad ahead of time, place the cover on while the flavors blend and everything remains fresh. The lid and the size makes it just perfect for  summer potlucks and get togethers. And if there happen to be leftovers – which there is at our house because we can make two meals from one recipe – the lid comes into play again.  You can even set another bowl on top of the covered dish and save room in the refrigerator.  And it works great for serving and keeping melon chunks, too.   I love my refrigerator dish with the veggies on the lid!  But you can use any 8×8 dish for your Layered Salad.  Or for that matter any glass bowl.  It's entirely your choice 🙂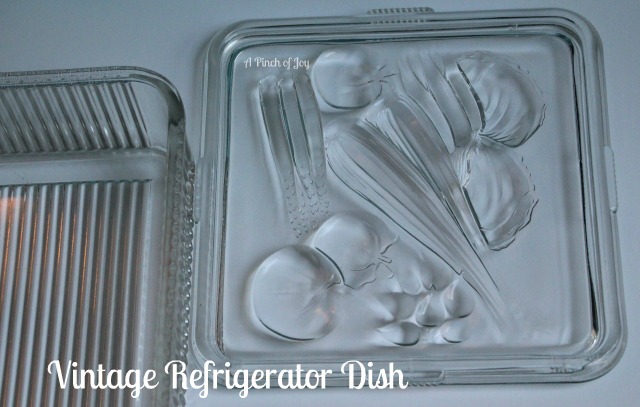 Layered Salad
Classic for a reason! All the good salad ingredients in layers, topped with a creamy dressing. Pretty in a glass container.
Author:
Charlene - A Pinch of Joy
Ingredients
1 12 ounce package iceberg lettuce with carrot shreds
1 10 ounce box frozen peas OR 1 cup from larger package
3 green onions, sliced OR ¼ cup diced white onion
Any combination or all of the following, sliced or diced:
1 rib celery, half a sweet pepper, half a cucumber, several cauliflower florets
1 cup shredded cheddar cheese
¾ cup mayonnaise
1 package real bacon bits (not artificial) OR 1 pound bacon crisped and crumbled
Parsley, snipped, about 1 Tablespoon, optional
Instructions
In an 8x8x2 inch dish, evenly distribute one half of the iceberg lettuce.
Add peas, shaking evenly over the lettuce layer.
Repeat with the other sliced, diced vegetables.
Top with the remaining one half of the lettuce, evenly distributed and pressed down slightly.
Add shredded cheese evenly over the top of the salad.
Spread mayonnaise lightly across the top with spatula, pressing down into lettuce until the entire salad is covered. Add more mayonnaise if needed to completely cover the entire salad. Top should be covered with mayonnaise but you should still be able to see the lettuce "peeking" through.
Sprinkle bacon evenly over the top. Sprinkle parsley over top, if desired, for more color.
Cover tightly with lid or plastic wrap.
Refrigerate several hours, overnight is best before serving.
I'm so glad you stopped by today!
Follow A Pinch of Joy using the icons on the teal bar at the top of the page so you don't miss a thing!   I'd love to have your company on this venture!!  Share: if you found this helpful or inspiring please click one of the buttons below!  Your support of A Pinch of Joy is appreciated!
Shared with these awesome link parties here  
Save