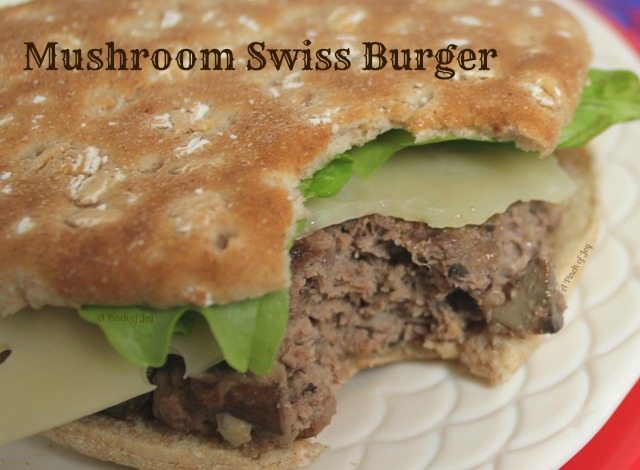 Mushroom Swiss Burgers evolved when I picked up some burgers from a supermarket deli after work one night. We all liked it so well, that I just had to come up with a copy cat version.  The grocery store version may have it on speed – just heat the cooking surface and 10 minutes later you have burgers.  But the home made version is less expensive and only takes a couple of minutes to mix — plus the ability to plan ahead far enough to also buy mushrooms and swiss cheese when you find the meat on sale.  You get that picture, I'm sure – no need to say more!
I usually buy 90% lean or higher if I am going to use the ground beef in a dish, but 85% lean works well when the meat does a solo appearance. If you are going to grill or fry ground beef patties, a bit of fat is necessary to keep the burger together and to give it flavor.  Much of it will cook off so it is not eaten. The store version had small chunks of Swiss cheese right in the mix but the taste comes through with a slice or two on top of the cooked meat.  The buns in the photo are thin buns.  Several companies now make these available nationwide, including Pepperidge Farm Deli Flats, Arnold Sandwich Thins, Sara Lee Thin Buns.   I do buy certain brands of regular buns, too, because what we eat at any given time often depends on which store I shop for groceries that week – not endorsing any particular product.  If you are concerned about nutrition and health, it pays to read the labels on all bread products  as there can be quite a variation in carbs, calories and nutrition available.  It's time well invested and you'll only have to do it once, if you keep a list of what brands and types meet your criteria.

Mushroom Swiss Burgers
Delicious mushroom and ground beef burger!
Author:
Charlene - A Pinch of Joy
Ingredients
1 pound ground beef, 85% lean
1 egg white OR 2 tablespoons egg substitute
1 small onion, chopped (about ⅓ cup)
4 ounces mushroom, chopped
½ to 1 tsp salt, depending on your taste
Pepper to taste
4 -6 slices Swiss Cheese
4 -6 buns
Instructions
Mix first six ingredients together in large bowl.
Form equal sized patties. Makes four large or six medium patties.
Patties will be somewhat soft because of the egg so place on cooking surface carefully and turn by slipping spatula under entire burger and then lifting all at once.
Grill to desired doneness – about 3-5 minutes per side, turning carefully. OR
Alternatively, Cook in skillet over medium heat until done, about 3 minutes per side, plus an additional 3 minutes on first side while pan is covered to make sure interior of meat reaches even temperature.
Add a slice of Swiss cheese and slip into a bun.
Welcome to A Pinch of Joy!  I'm so glad you stopped by today!   Follow A Pinch of Joy using the icons on the teal bar at the top of the page so you don't miss a thing!   I'd love to have your company on this venture!!  Share: if you found this helpful or inspiring please click one of the buttons below!  Your support of A Pinch of Joy is appreciated!
Shared with these awesome link parties here  
Save