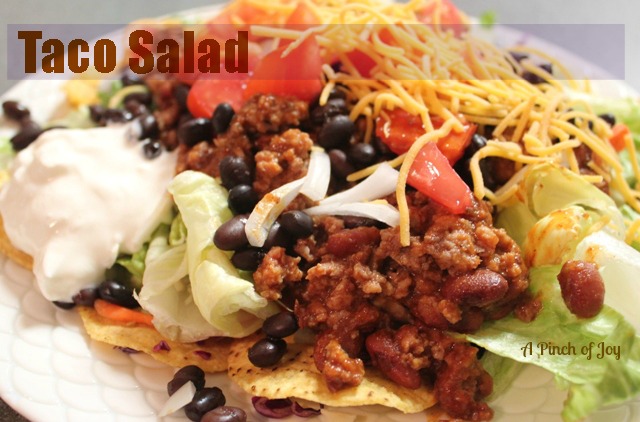 Wheel's sister, JayEl*, introduced Taco Salad to us at a family dinner once upon a time.  It was an immediate hit!  The guys loved it.
Like all recipes that come my way, it's been tweaked a bit here and there – well, a lot come to think of it.  First was the ground beef.  Bytes and his brother would leave behind anything with taco spices, but they would eat chili mixed with the ground beef.  Like any sane mother, I went with the flow and opted for what they would eat as long as it was on the healthy side.  Then Bytes turned up with an allergy to tomatoes, so they were served on the side and until he outgrew the allergy, his ground beef was plain.   Growing young men go more for cheese and meat rather than lettuce and dressing so the layer method was developed.    Bytes brother brought sour cream into the picture.    Wheels and I decided we preferred the smaller, more flavorful black beans so the red kidney beans fell off the recipe. A diabetes diagnosis led to the chips on the bottom, counted out to serving amount on the package.  And half the time we skip the Italian dressing.  All this to say, this recipe is flexible and the cook can make necessary changes and still have a delicious and tummy filling meal that pleases everyone.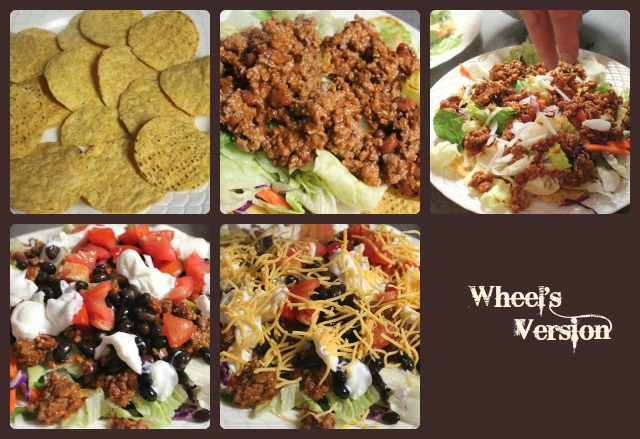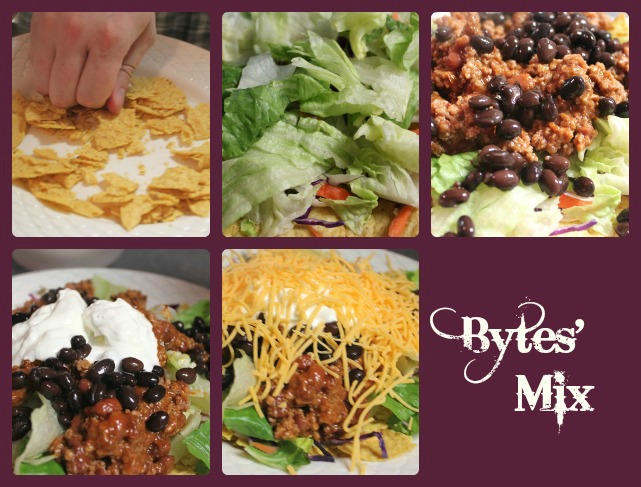 *Have you figured it out yet ??

              Our sisters are identified by spelling out their initials.  🙂
Don't miss a thing —  subscribe by email or RSS feed, follow on facebook or twitter to catch the latest post!  If you found this post helpful, please  give it a Stumble, Tweet, Pin, or Facebook Like. Your support of A Pinch of Joy is greatly appreciated!
Taco Salad
Ingredients
1 lb ground beef
I pkg taco seasoning, prepared according to directions OR 1 can chili with beans, low sodium
1 package lettuce OR 1 head of iceberg lettuce, torn into bite size pieces
4 medium tomatoes
1 medium onion, chopped
1 can kidney OR black beans
4 ounces grated cheddar OR Mexican mix cheese
Italian (or French) dressing
1 small bag baked taco chips
1 small container sour cream
Instructions
Brown ground beef and drain.
Add taco seasoning OR chili and heat until warmed through.
Layer method:
Lay taco chips on plate, then lettuce, tomatoes, black bean, onion and cheese.
Add dressing and sour cream to taste.
Tossed method:
Toss lettuce, tomatoes, onion, beans and cheese.
Break chips into small pieces, add to salad.
Add ground beef chili mix and toss gently.
Serve with Italian dressing and sour cream.
Save