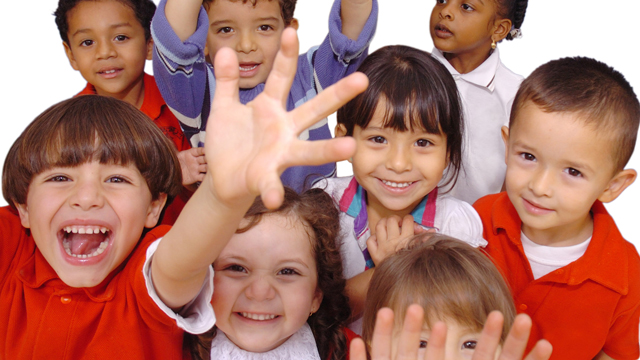 A Pinch of Joy welcomes a guest poster!  Miss Angela, as she is known,  has 14 years experience working with older infants, toddlers and young preschoolers as a Child Day Care Teacher.   Today she shares her own list of important things to look for when choosing a day care center from an insider's point of view.  These three things are not what most parents think about when choosing a day care, but looking for them can make day care a positive experience for parents, children and teachers.  Angela says to look for:
1.  Teachers who seem to actually enjoy working with children.     They smile when each child walks in. They offer hugs for the ones who are having a rough drop off. Certain ages will have those rough drop offs almost constantly. A teacher who reaches out and offers hugs to the child is  a good sign. Most kids in those rough age groups will calm down within a minute or so of Mom or Dad being out of sight and will be off playing happily.
2 .   Cameras in each classroom. This one has a couple of reasons.  If the Director has monitors in their office, it's easy for parents to watch their child's class for a while if they want to. Not sure that your child really is "fine" as soon as you're out of sight? Stop and watch on the monitor. In the better centers I've worked in, you would have seen your child hugged and snuggled until they wanted to go play very happily with their friends. The other reason comes from the other side- knowing when something negative is happening in a classroom or center. This happened to me at one center I worked at.  Without cameras to "back me up" when I reported someone for negative actions, I wasn't believed by the owner of the center. After that experience, cameras are very high on my own list of things to look for.
3.  Lots of children's art on the walls.   From "scribbling" with crayons, markers and chalk to finger painting, painting with brushes, sponges, even fruits or veggies,  art is especially important in the younger classes. All of that "random scribble" is a huge part of how your child learns the small motor skills required to learn to write in a couple more years. It's not about the "finished project" at those younger ages. It's about exploring different colors, textures, objects, even sounds as they "splat" at paint or whatever it is. The cute "handprint and footprint" stuff that the teachers "help" with is fun too. They are some of those things many parents keep as reminders of how little those hands and feet were as their child grows. However, especially in the younger classes, you do not always want to be able to tell what the "project" was.  If you can, for a child under 3 or 4 years old, the teachers are probably directing the art. It teaches the child very little, and doesn't allow them to explore or learn. Better teachers will be able to find ways to do a "project" or a theme that still allows each child to do their own art.
Those are the 3 biggest things I personally want to see. There are others, such as – Is the classroom clean? (This one doesn't count if you're visiting a center during or immediately after meals. It doesn't matter what the ages in the classroom are.) Glance at the floor & trash can area. Are there ants?   If you're in a room during diaper changes or potty time, are the teachers washing their hands? The kid's hands?   Are they wearing gloves? Are they CHANGING their gloves between diapers?  (Yes, I have seen someone do 12 diapers without changing the gloves!  See above- about the cameras.)  Do you get any kind of "funky feeling" about the center, owner, director, teachers?   Trust that.  Do you get the feeling that certain teachers absolutely adore the kids they work with?  Trust that too.  There are many names and faces I'll remember for many more years to come. I talk about them often, I miss them greatly and hope they're doing well as teenagers (*gasp!*).   There ARE great centers out there. There are wonderful teachers who love their jobs and the kids.   Day care is a transition, for you and for your child.  But hopefully with a few things to look for from someone who worked in the field for almost 14 years, it will be an easier transition for all.   Good luck!
Thanks, Angela, for sharing your expertise!   If you found this post helpful, please  let Angela know in the comments where you can also add your own tips.  It would be great, if you also give it a Stumble, Tweet, Pin, or Facebook Like.