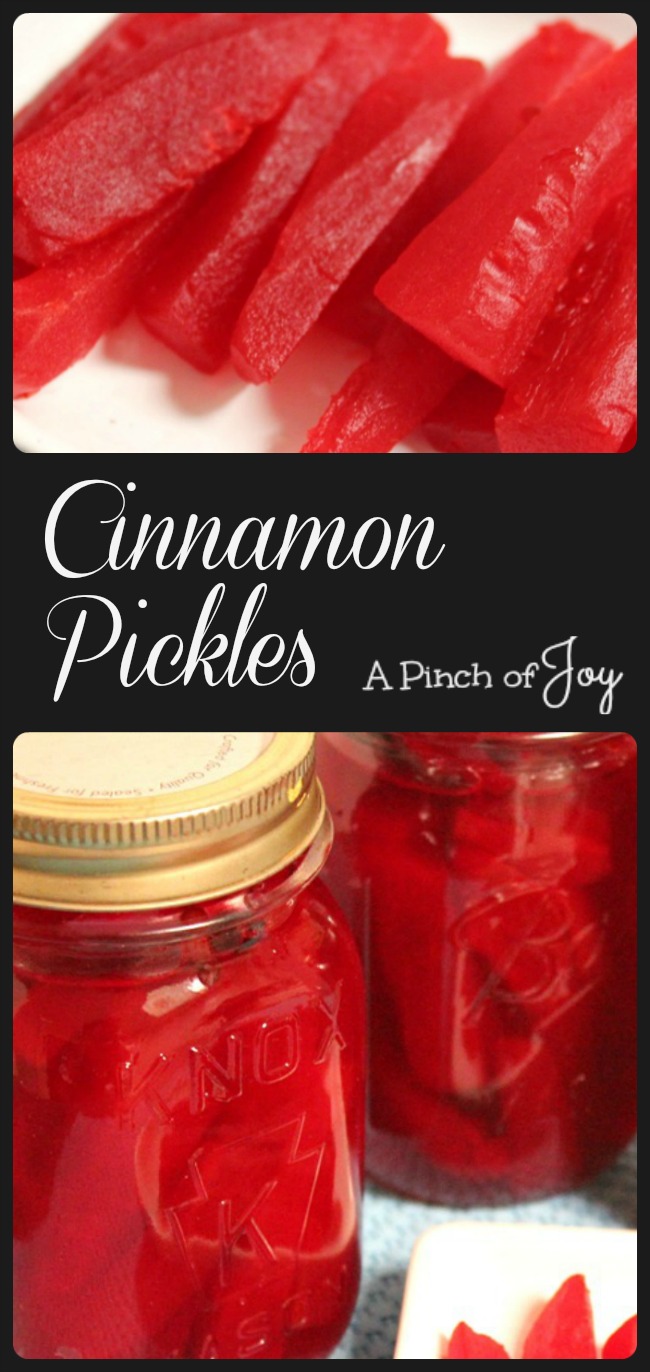 My recipe card for Cinnamon Pickles, stained with red food coloring, always makes me smile at my friend's distinctive handwriting.  Cindy was my north star for a short time.  You know, the kind of friend that comes into your life and points a different direction.  I became a stay at home mom when my job I loved ended due to budget cuts.  The notion of being at home with my sons was not entirely unwelcome since Wheels and I "sort of" planned that lifestyle,  but the adjustment of being ONLY with them was challenging,  to say the least!  I come from a large family, I love people and had always been with a group of friends and coworkers most of the day.  And the constant responsibilities of a newborn and a toddler —- I was a professional but no amount of "professionalism" was going to get me through! 
Enter Cindy who lived down the block and around the corner with a daughter a bit older and a newborn as well.  We spent hours on the phone, laughing through mindless chores.  She was good company and more.  She was an artist who turned out beautiful works and taught me about balance and the importance of taking care of mom.  The list could go on.  We moved, she moved, and we moved again — somewhere in there we lost track of one another.  But I am so very grateful that Cindy touched my life and, in so many ways,  made it better and richer.
Like this recipe for Cinnamon Pickles  straight from Cindy's recipe box.  Crunchy, crispy, sweet and sour and full of cinnamon zing!
When Wheels came in from the garden with this: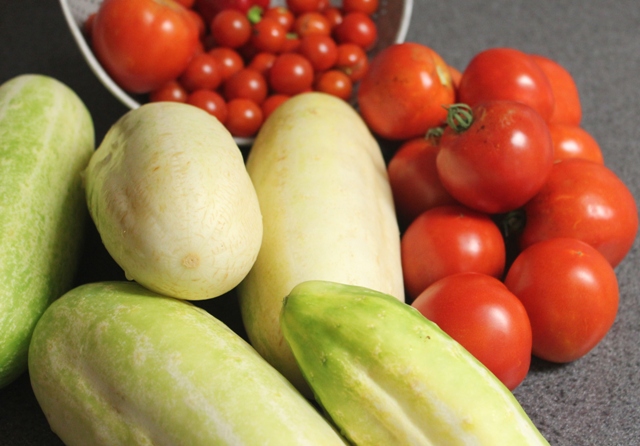 I thought immediately of the cinnamon pickles.  The cucumbers were hidden during a short rainy spell so grew larger than we would normally let them.   They were still crisp and tasty, however. ( Be sure to check out the cucumber taste before taking the time to make pickles — especially if they are large.) The recipe is usually made as rings, but since the cucumbers were large I decided to make "sticks" instead.   I also cut the recipe below in half to make a smaller batch and got 4 pints.  That's just perfect for us – one to eat now, one for Thanksgiving, one for Christmas and a wild card special occasion.  The recipe sounds much more complicated than it really is because it is spread out over several days. 
The most time invested is upfront in cleaning and cutting the pickles. With a sharp knife, even that goes quickly. Slice off the blossom end of the cucumber (the smooth end) about 1/8 of an inch.  The blossom secretes an enzyme that softens the pickle.  Peel the cucumber before slicing.   If you take time to make your slices clean and uniform the finished project will make a prettier presentation. You can cut the cucumber into sticks as I did or more traditionally cut across the cucumber to make circles.   Remove as much pulp as you can with the seeds — the darker green portion on the cucumber slices below.  Whether you make rings or sticks, scrape as much of that away with a spoon as possible, then use a sharp knife if needed to remove any seeds or pulp left behind.  Cleaning this away thoroughly will result in a nicer finished product.  Using smaller cucumbers than what I had available, will also make it easier to make pretty pickles. 🙂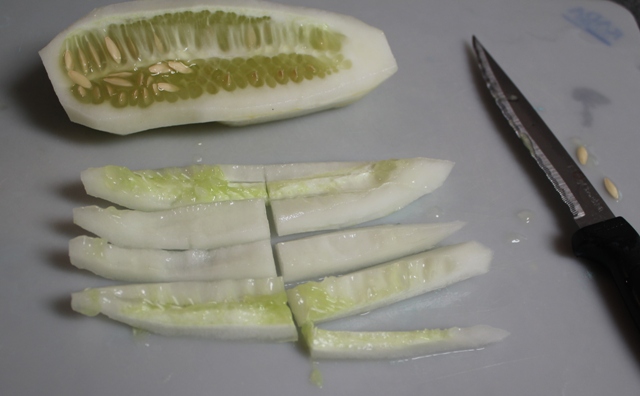 The other important tip is to use a large kettle, preferably one that is stainless steel or enameled or coated because the liquid will pit aluminum pans.  (Updated in response to a reader question:  The use of pickling lime is a pre-treatment that makes the finished pickles crisp and snappy.)  Be sure to drain the lime water away from the cucumbers, then rinse them under running water.  Let the cucumbers soak in clean water and then rinse under running water again.  Every trace of the alkaline based lime must be rinsed off so the vinegar can do it's job of pickling.

The red hots were hard to find for some reason – maybe because I don't buy candy anymore and just didn't know where to look!  I finally found Brach's cinnamon imperials which are the same thing.  You can also buy them (more expensively) in the cake decorating section of the store.  Added in response to the same reader's question:   The vinegar and sugar syrup are essential to the pickling  process, which includes fermentation over a period of time.  Heating the syrup each day kills unwanted bacteria and helps keep the proper temperature needed for the process.  These steps are also necessary to preserve the food.   Don't shortcut these steps!

Make sure the jar is sealed before storing.  You will hear an audible snap as the jar seals.  Another way to check is to push down on the center of the lid.  It should be firm with no movement.  If the jar is not sealed, reheat the contents and use a new lid, according to directions on the package.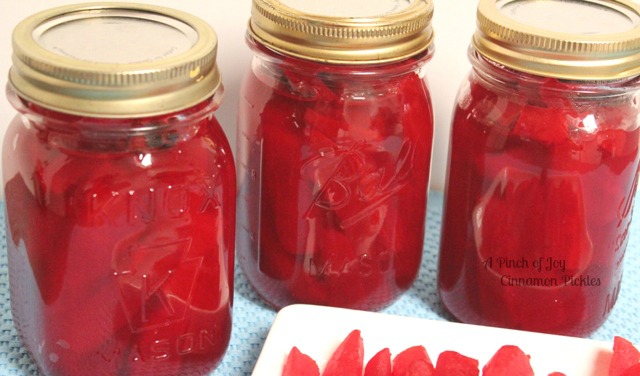 These pickles are a favorite for the holidays because they look so festive on the table and because they are a perfect counterpoint to complex meats and heavy side dishes.  They are, simply put, fantastic!
Cindy's Cinnamon Pickles
These are very easy to make so don't let the long directions scare you. Cinnamon pickles are sooo worth making -- you'll be glad you did from the very first crispy bite! A unique flavor that everyone loves.
Author:
A Pinch of Joy by Charlene Vance
Ingredients
Day 1
7 pounds of cucumbers to equal one gallon cut and seeded rings or sticks
4 quarts of water
1 cup pickling lime
Day 2 - Step 1
½ cup vinegar
½ bottle red food coloring
1 ½ teaspoons alum
Water to cover – about 4 quarts (see directions below)
Day 2 - Step 2
1 cup vinegar
4 cups sugar
1 cup water
4 sticks cinnamon, broken
½ 6 oz package red hots (cinnamon imperials)
Instructions
Day 1
Peel medium to medium large cucumbers. Cut in thirds and hollow the cucumber by scooping seeds and center out with a spoon. Slice into rings about ¼ - ½ inch thick. For very large cucumbers (or your preference), peel and cut in half lengthwise to scrape out center, then cut into "sticks" about 4 inches long and ¼ - ½ inch wide.
Mix together in large pot or dutch oven (not aluminum) the pickling lime and 4 quarts of water. Add cucumbers, cover and soak overnight.
Day 2
Drain and rinse cucumbers and pot under running water. Cover cucumbers in the pot with cold water to a depth about half an inch above them. Add ice to be sure it is cold. Soak for three hours.Then drain and rinse again.
Mix together in large kettle or dutch oven, ½ cup vinegar, red food coloring and alum and 2 quarts water. Add cucumbers and more water to cover. Simmer for 2 hours. Drain, but do not rinse.
Mix together syrup ingredients listed in Step 3, in large pan and bring to boil. Measure to determine volume. Pour over cucumbers, cover and leave overnight at room temperature.
Day 3
Drain syrup off into saucepan. Add water, if needed, to maintain volume previously measured and bring to boil. Pour over cucumbers again. Cover and let set at room temperature until following day.
Day 4 – repeat Day 3
Day 5– repeat Day 3
Day 6 – Drain syrup, add water to measure equal to previous volume and bring syrup to boil. Pack rings tightly into jars rinsed with very hot water. Use a fork to guide them into the jar. For sticks, hold the jar on its side and stack the cucumber sticks into the jar. Add hot syrup to each jar till it reaches the neck of the jar. Top with jar lid that has been boiled according to package directions. Add jar ring to help create seal.
Makes 7-8 pints. Will keep for three months sealed.
If you want to keep longer, use a water bath by setting jars in large covered kettle, adding water to neck of jars, bring to boil and boil for 5-8 minutes. This assures that the pickles will keep for up to a year.
I'm so glad you stopped by today!   Be sure to follow A Pinch of Joy so you don't miss a thing! I'd love to have you along on this journey!  Subscribe by email  on the sidebar  or follow on Facebook, RSS feed, bloglovin'  twitter  or   pinterest    If you found this helpful or inspiring please share below!

Save
Save
Save
Save
Save